Family Notes - December 2008
This is a sample of the information provided to members of the P*rr*tt Society in the December 2008 edition of Family Notes. Family Notes is a 56-page printed magazine that is distributed to society members every quarter.

Carew Castle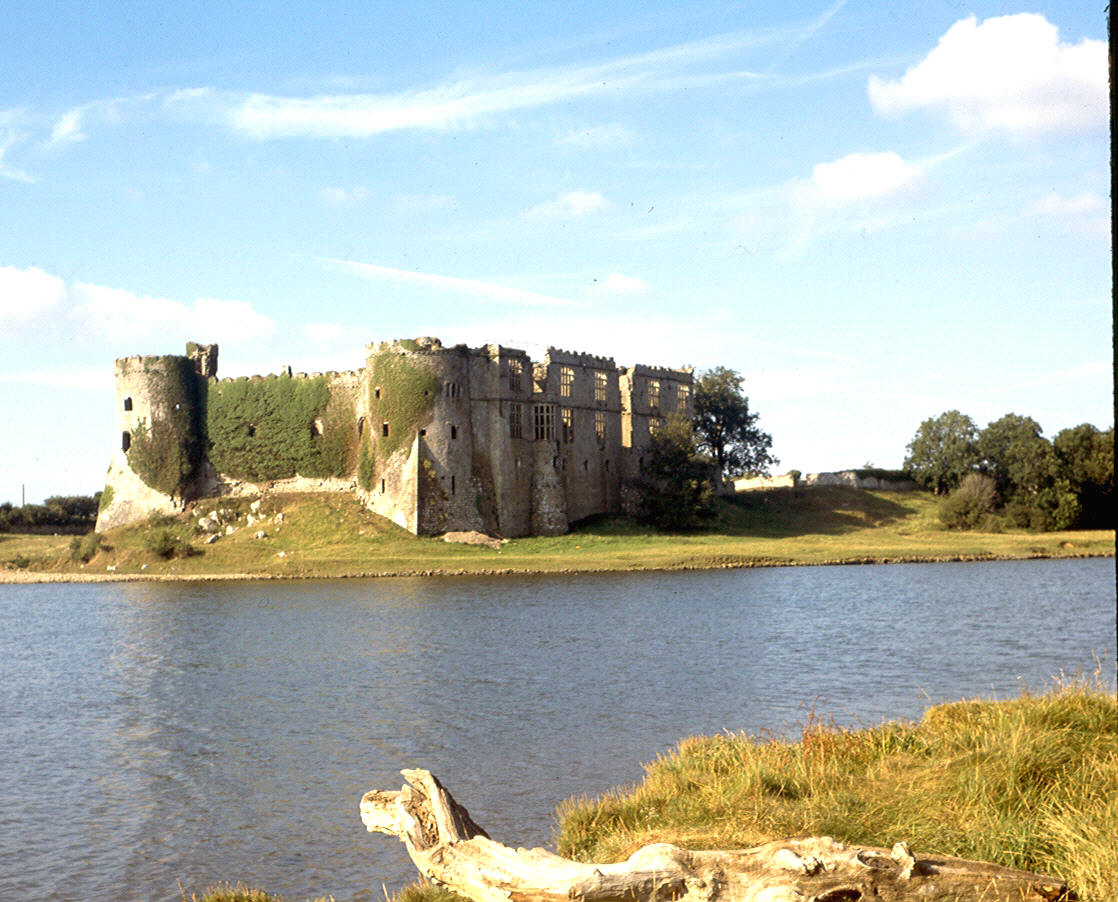 The romantic ruins of Carew Castle once the Pembrokeshire home of Sir John Perrot

Discovery in a tin box
Estate worth £20,000 in 1938
by Christine Russell (0969)
This is the story of Elizabeth Perrott who lived in Gresse Street, London, one of the children of Nathan and Caroline Perrott. Her story is one of 'rags to riches' that you might find in a novel.
I have traced my grandfather's uncle, Nathan Perrott (1821-1912) who was married to Caroline (b.1834? Bermondsey, d.1913.) in the 1881 census living at 26 Gresse Street, Marylebone, London, working as a furniture broker. He died in 1911 and his wife Caroline in 1913; they never made Wills. Their daughter Elizabeth (a spinster) continued living there alone for the next 25 years, living as frugally as her parents did all their lives. She then sometimes sold flowers and sometimes did office cleaning to earn money to support herself. When she was 80 years old and too old to work and care for herself she was given help by representatives of her church. They suggested she should go into a poor institution and the curate from her church asked if she had any family or relatives they could trace. She then produced an old tin box belonging to her late father, which neither she nor her mother ever opened as the key was missing.
The box was forcibly opened; inside were records of £10,000 of bank deposits and several thousand pounds worth of Government Bonds. These deposits, once discovered, were then restored by the bank and with interest added were worth £20,000 - that's about half a million pounds today!
For Elizabeth to inherit this money it had to be proved that her parents were married and that she was their daughter. The case went to the Court of Chancery. Extensive searches were made and no marriage certificate was found. There was no evidence found to suggest that they had not married and a mass of evidence in favour of them being married. There were many birth and baptism certificates as they had seven children and the census returns from 1851 to 1911 showed that Nathan and Caroline had lived together as man and wife. The Judge said as this was clearly stated, therefore the monies should go to Elizabeth, the only surviving daughter.
Elizabeth died in 1939. She had made a Will and left all the money to her late sister's three children.

Father, dear father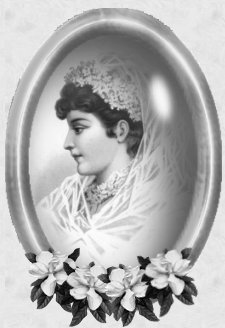 As all male members of the Society know only too well, Fathers are long suffering, patient people and those with daughters who are about to get married are even more so - and if you ask how I know, I've been there! But my experience runs to 3 sons and only one daughter, so I have to take my hat off to Mr. Peter P. Parrott who at the end of the 19th century lived in Orange County, New York.
The New York Times records the marriages of 4 of his daughters. Think of the expense, the endless discussions of dresses, invitation lists, and having to greet long lost relatives you had secretly hoped never to meet again .....................
But back to Peter Parrott! Here's how the New York Times recorded the 4 great days:
19 October 1866: DICKINSON - PARROTT. On Wednesday Oct 17 at St. John's church, 'The Greenwoods' Orange County by Rev. Charles Babcock assisted by Rev Dr. Francis L. Vinton, George Fox Dickinson to Jane Arden, daughter of Peter P. Parrott, Esq.
24 April 1874: WHIPPLE - PARROTT. In this city April 23 1874, at the Church of the Transfiguration, by Rev. John Potter, assisted by the Rev. Dr. Houghton, Mr. N. Dana Whipple, to Roberta Parker, daughter of Peter P. Parrott of 'The Greenwoods.'
14 June 1879: RANDALL - PARROTT. On Thursday June 12, at St John's church, The Greenwoods, Orange County, NY, by the Rev. W.H.De L. Grannis, assisted by the Rev. Samuel Moran, Miss Hannah Parker, daughter of Mr. Peter P. Parrott, to Mr. John Wirt Randal of Annapolis, Md.
10 June 1886: KISSAM - PARROTT. At Greenwood, Orange County,NY, 8th June, Mary Antoinette, daughter of Peter P. Parrott, to Philip Kissam
These are just the weddings I found. Who knows if Peter Parrott was blessed with even more daughters?


A P*RR*TT PHOTO GALLERY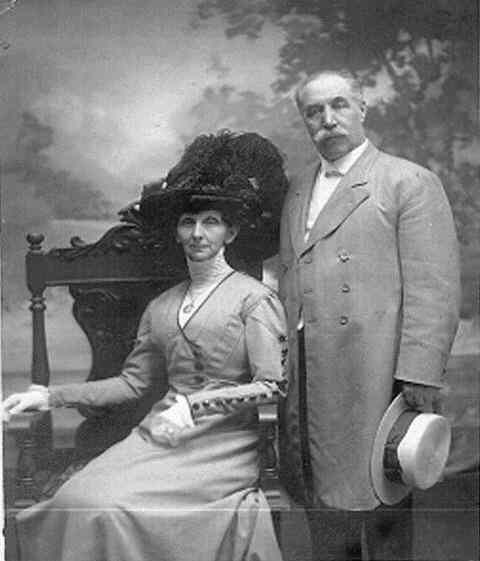 Fanny Marie Govett Perrett was born on 6 June 1848 in Stogursey, Somerset, daughter of Thomas and Maria née Govett. Thomas was a 'Yeoman, farming 110 acres and employing 4 labourers'. In November 1868 in the Register Office in Bridgewater Fanny married Independent Minister William Spurgeon; the couple are seen here in about 1901. The family lived a variety of locations including Stringston, Dudley, Nether Stowey and Cardiff. Fanny died in Cardiff in 1923. Society members 31,32, 48, 418, 433, 443, 844 and 853 have family connections with her.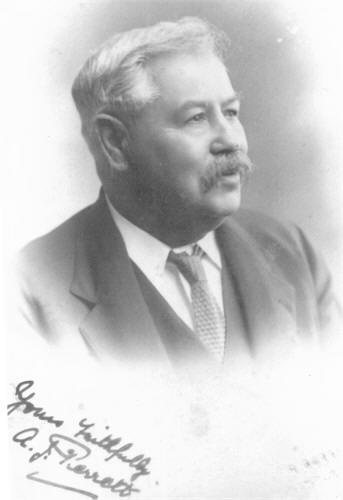 This is Alfred James Perrett, born in 1860 near Melksham, Wiltshire, and died in October 1945 in Cwmbran, Gwent, Wales. He was the son of Alfred Perrett ('porter in a cheese store') who was born c.1834 in Hinton, Wilts. and Charlotte née Usher. Charlotte was born in Bath in about 1835. Alfred James worked as a railway signalman and married Alice Jane Stone who was a Somerset girl born in Taunton. He became Council Chairman and Justice of the Peace. It has been suggested that this photograph was signed by him to be used by a local newspaper.

New York Times,21 April 1923:
DOROTHY ELY ENGAGED
Daughter of Mrs. P.H.Manners to Wed Charles Parrott
Mrs. P.H.Manners of 57 West Fifty Eighth Street announces the engagement of her daughter Miss Dorothy Vivian Ely to Charles Parrott, of London, England.
Miss Ely is a granddaughter of the late Frank Ely who founded the Ely-Walker Dry Goods Company of St. Louis, Mo. On her mother's side she is related to the Jordans of Boston. She was educated abroad and is a writer of short stories.
Mr. Parrott practices law in Cairo, Egypt, where he and his bride will reside after their marriage in the early summer.