Family Notes - December 2010
This is a sample of the information provided to members of the P*rr*tt Society in the December 2010 edition of Family Notes. Family Notes is a 56-page printed magazine that is distributed to society members every quarter.

Lest We Forget
P*rr*tt Civilian War Deaths
The thought of soldiers dying during warfare does not surprise us; but it is sometime forgotten that civilians have been victims, too. Where would we find details of World War 2 civilian deaths? The answer lies, surprisingly perhaps, with the Commonwealth War Graves Commission. As well as recording military deaths it lists 67,000 civilian victims around the world. To use their search facility, go to www.cwgc.org/debt_of_honour.asp and when filling in the search form click on the arrow alongside 'Force' and select the last option, 'Civilian'. Remember that the list does not sort phonetically - if you type in PARROTT it will only search for that precise spelling.
All war deaths are tragedies but when searching under PARRETT I found 3 children of the same family who died together in Bootle. They were Brian (2), Frank (6) and James (10) sons of George Trapnell Parrett and his wife Margaret Rose Parrett; the boys died together in a raid at 43 Wordsworth Street, Bootle on 3 May 1941.
Another heart-rending loss occurred in 1943 in in Torquay in Devon, over 200 miles from the dangers of the area around London. The church of St. Mary the Virgin which gave its name to St. Marychurch, a parish on the outskirts of Torquay, was destroyed by enemy action on Sunday May 30th 1943 in the early afternoon.
Children had begun to arrive for Sunday School and most of the girls were already inside the church, some with the woman who had brought them - the boys were still playing outside the door. Inside, the Sunday School teachers were waiting to start their classes when aircraft flew in from the sea and bombs began to fall.
When the raid was over and the full enormity of the event was realised, would-be rescuers came from far and wide, making frantic attempts to move tons of masonry, metal, timber and glass with their bare hands but in spite of their heroic efforts, the last of the bodies was not recovered for another 48 hours.
Amongst the young victims were Mary Lilian Perrott (12) and her twin brother Harold Frank Michael Perrott. (In some accounts his name is given as Michael Frank Perrott). They were the children of Frank Burt Perrott and his wife Lilian S. Parrott, of 28 First Avenue. Michael was taken to Torbay hospital but died there the same day; it is believed Mary died at the scene of the bombing.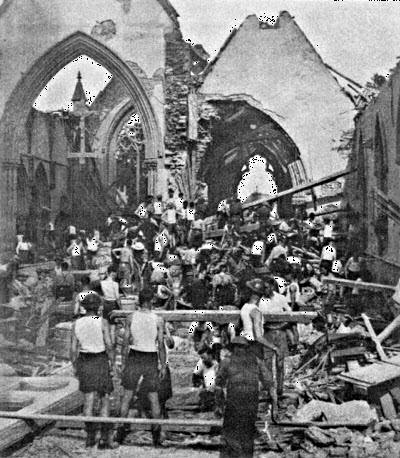 Allsorts
The Times, London. 6 August 1816
William Parrott, a groom in the service of Sir Joseph Banks who had been bit by a mad dog some weeks ago, died on Monday in a state of delirium occasioned by the impression made on his mind by the accident.
The Sheboygan Press (Sheboygan, Wisconsin) 1 November 1911
Scrappy little 3rd baseman made sensational catch of hot hit over 3rd base and caught runner at Home Base: The greatest play I ever heard of was the one 'Tacky Tom' Parrott made when he mistook an English sparrow for a line fly and caught it with one hand after a hard r un .....
The Sheboygan Press (Sheboygan, Wisconsin) 25 July 1914
'An automobile party consisting of E.J.Witmer and wife J.R.Witmer and Misses Whitmer and Eva Parrott, all of South Bend, Indiana passed through the city today, stopping at the Grand Hotel. They are making an extensive tour along the lake and through several states.'


A P*RR*TT PHOTO GALLERY
| | |
| --- | --- |
| | William Fletcher Parrett was born of English emigrant parents in Blaisville, Posey County, Indiana in 1825. His parents were Robert Parrett born 1791 in Devon and Martha Mason. Robert and Martha married in Pickering, Yorkshire in 1815 and later emigrated to the USA. Their son William became a lawyer and a judge and was married twice: first to Susan Elizabeth Hinman in 1847 in Indiana and second to Harriet W.Hinman in 1852. The fate of Susan is uncertain but it is thought she may have died in Oregon. William died 1895 in Evansville, Indiana. |
| Jessie May Parrett was born 7 Oct 1873, daughter of A.F.Parrett and his wife Nancy. In 1900 the family lived in Greenfield, Highland, Ohio, USA; at this time Jessie was a stenographer and her older sister Flora was a music teacher. In 1908 she married Corwin Beach Cory and by 1920 was living with her husband and 10 year old son Burton Cory in Concord, Ross, Ohio. The above photo shows her at age 18. Jessie died 5 February 1959. | |