Family Notes - December 2019
This is a sample of the information provided to members of the P*rr*tt Society in the most recent edition of Family Notes. Family Notes is a quarterly magazine that is distributed to society members in both printed and electronic format. All previous editions of the journal since 1984 are available online to society members.

Walter Parratt: Master of Music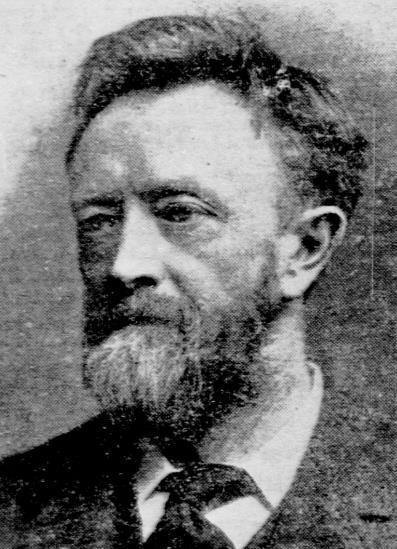 Walter PARRATT (1841 1924) was an organist and composer of some esteem, holding posts at Magdalen College, Oxford and St. George's Chapel, Windsor Castle, as well as serving as the president of the Royal College of Organists.
His grandfather, William PARRATT (c.1760 1845) came from the Whalley area of Lancashire and was the son of a dish turner. William married Sarah LISTER and raised a large family. His son Thomas PARRATT (father of Walter) was born in Tadcaster in 1793. William worked as a toll keeper in Tadcaster and later in Manchester where Thomas was able to attend Manchester Grammar School.
William's fortunes continued to grow and in time he became a manufacturer in the wool trade in Bradford. This prosperity allowed his sons to explore opportunities that might not otherwise have been available. Thomas trained as an organist and became the first professional organist at Huddersfield Parish Church where he remained for 50 years until his death in 1862. His elder son, Henry Lister PARRATT, succeeded him in the role for the next 42 years. A plaque on the organ marks this remarkable achievement of 92 years with a PARRATT organist at the church.
Walter, born in 1841, took his first paid position as an organist at St. Paul's Armitage Bridge at the age of 11 and later went to the choir school of St. Peter's Chapel near Buckingham Palace in London, where he was able to practice on the organ at St. Sepulchre's, Holborn, before returning to his native Huddersfield. In 1861 he took up the position of organist to the Earl of Dudley at Witley Court in Worcestershire.
Whilst at Witley Court, Walter PARRATT married Emma GLEDHILL. He was a keen chess player, sometimes playing blindfolded or while playing the organ at the same time. In 1868 Walter and Emma went to Wigan where he became organist at the parish church. Their first child, Amy Temple PARRATT, was born there, however their sojourn in Wigan was brief as in 1872 Walter was appointed as organist at Magdalen College in Oxford.
There were two daily services at Oxford and Walter took advantage of his time there to gain his Mus. Bac. In 1873. He was also choirmaster at Jesus and Trinity Colleges, as well as conducting the Exeter College Music Society, Trinity College Glee Club, Oxford Choral Society and Oxford Musical Society. His love of chess also persisted and he became the first Captain of Oxford University Chess Club.
Walter and Emma lived in St. Giles while at Oxford and had four more children: Katherine, Dorothy, Geoffrey and Margaret. One of Walter's friends in Oxford was Prince Leopold, the youngest son of Queen Victoria, who encouraged him to apply for the position of organist at St. George's Chapel in Windsor Castle. In 1882 the PARRATT family went to live in Horseshoe Cloisters, a large and comfortable family home. When the Royal College of Music was founded in 1883, Walter became its first Organ Professor, travelling daily from Windsor by train, but rehearsing his choir before he left in the morning and returning in time for Evensong.
In 1892 he was made a Knight Bachelor by Prime Minister Lord Salisbury and in 1893 became Master of the Queen's Music, which saw him involved in state weddings and funerals including, sadly, the funeral of his friend Prince Leopold who suffered from haemophilia in 1894. He played at the coronations of Edward VII and George V and overhauled the music library at Buckingham Palace. Walter visited Osborne on the Isle of Wight and occasionally Queen Victoria sang to his accompaniment. When the Queen died in 1901, Walter had to accompany her coffin back from the Isle of Wight. His work also took him further afield, to Rome, South Africa and Canada, before this travel was curtailed by the First World War.
Walter and Emma lost their eldest daughter, Amy, in 1917 - she is commemorated at St. George's Chapel alongside her parents. In 1921 Walter was awarded the title Knight Commander of the Royal Victorian Order for his services to three monarchs. He last played at St. George's Chapel that same year and his last recital was at Sompting, Sussex in 1922. Walter died in 1924. His ashes and those of Emma are under a slab in the North Choir Aisle at St. George's Chapel.

It's In the Papers
We've scoured the pages of newspapers recently added to the British Newspaper Archive website to bring you some P*rr*tt related articles.
NORTH BRITISH AGRICULTURIST (Midlothian) - 20 May 1885
'AGRICULTURE' AT THE INVENTIONS EXHIBITION. The exhibition at Kensington, which was opened in the beginning of this month by H.R.H. the Prince of Wales, is now assuming a more complete appearance, and bids well to eclipse in every way the successful Health Exhibition of last year … A serviceable novelty is Porritt's patent sack hoist for loading or unloading grain by means of a horse, which is shown here for the first time by the inventor, Mr. N. Porritt, Clay, Dereham, Norfolk. It consists of a socket four square, which is let into the ground or floor, a jaw piece that slips into it, and a moveable head for meeting the load at any angle, provision thereby being made for the horse to walk in any direction desired.
EXPRESS (London) - 3 November 1866
Three wretched little fellows, named Michael White, Timothy Sullivan, and William Parrott, were charged before Mr. Knox with begging. Turner, Mendicity Society officer, said that between seven and eight the previous evening he saw the boys surrounding the passengers by the omnibuses stopping at the corner of the Tottenham Court road. They were offering fusees to the passengers, and when they could not sell them they begged of the persons. The parents of the boys were in court. White's father stepped forward and said he was not aware his son went out begging, and that he would take care of him for the future. Turner said that Sullivan's parents grossly abused him. Mr. Knox The boys are brought here in shoals. The story told me by the parents is always the same that they are sent out to sell fusees, but they are really sent out to beg … Sullivan denied sending his boy out to beg, and said that his boy had a bad foot … Parrott's mother admitted she sent her boy out, as she was nearly blind. Turner said that the boy Parrott told him he wanted to go to school. Mr. Knox said he would send Parrott to Feltham, and remand the other boys, they being catholics, to see what could be done with them.
MONTROSE STANDARD (Montrose) - 15 December 1882
ASSAULT ON A SCHOOLMISTRESS. William Thomas Sutton, a school teacher, was on Saturday fined £10 and 35s. costs of two months' imprisonment, for assaulting Margaret Porritt, who has a boys' boarding school at Askern. Porritt complained of Sutton having ill used two boys, when Sutton attempted to force her out of the room. Porritt fell, and on rising defendant struck her, giving her a black eye. On hearing that Porritt had sent for a policeman, Sutton seized the poker and threatened to knock her brains out. The defence was that the complainant was a violent woman, and that the action had been brought on account of Sutton taking Porritt's daughter's part when her mother ill used her, also that Porritt pulled Sutton's hair and ears before he struck her.
NORTHERN DAILY TIMES (Lancashire) - 26 June 1856
DEATHS. ON the 19th March, aged 19 years, at Melbourne, from the consequence of a fall, John, son of Mr. Joseph Porritt, Creen Mount, Stubbins Vale, near Manchester. The deceased was a midshipman in the Ocean Chief.
LIVERPOOL STANDARD AND GENERAL COMMERCIAL ADVERTISER (Liverpool) - 9 April 1850
THE ORPHAN WORKING SCHOOL. The Queen has been pleased to present to the above institution, as nominee in right of Her Majesty's munificent donation of 250 guineas, Joseph Parrett, one of seven children of the Rev. C. E. Parrett, Independent minister of Mevagissey, Cornwall. His wife died of cholera last year, and his income arising from all sources is under £70 a year.