Family Notes - June 2021
This is a sample of the information provided to members of the P*rr*tt Society in the most recent edition of Family Notes. Family Notes is a quarterly magazine that is distributed to society members in both printed and electronic format. All previous editions of the journal since 1984 are available online to society members.

JOSIAH PERROTT COFFIN
I was recently asked by member Shirley Davies if I could find out anything more about her great great grandfather Josiah PERROTT. She knew that he was born in Bridport, Dorset, England and arrived in Melbourne, Australia in 1855. Shirley had been able to trace her family history from when Josiah arrived in Australia, but she knew very little of his life and ancestry in England. This sounded like it would be a straightforward search of the genealogy records in England, but it turned out that Josiah wasn't who he said he was and that he may have left behind some family secrets in England.
Shirley was able to tell me that Josiah PERROTT was a police constable in London before arriving in Melbourne on the Caldera on 7 March 1855 with his wife Hannah nee PAYNE. They travelled with their two sons Shirley's great grandfather Frederick George PERROTT (1851 1931) and John PERROTT (1854 1858). They also had an older son Henry Sydney 'Harry' PERROTT (1850 1907) who remained in England with his paternal grandmother where he is listed in the 1861 census. He went on to serve as a bugler in the British Army and seems to have re joined his family in Australia sometime after that. Harry married Annie Morton LAMB in Mornington, Victoria on 17 March 1884.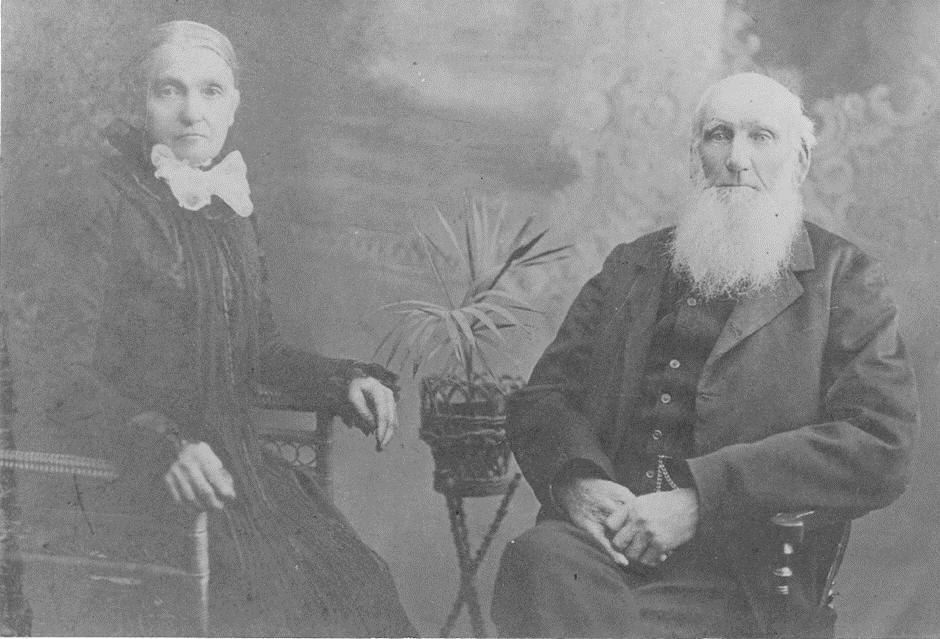 Josiah & Hannah PERROTT.
The first surprise was that there is no record of a Josiah PERROTT in Dorset at this time. However, I did discover a Josias Perrott COFFIN who was baptised on 22 July 1821 in Bradpole, Dorset. His parents are listed as George COFFIN and Elizabeth COFFIN [England & Wales, Christening Index, 1530 1980]. This Josias Perrott COFFIN did indeed marry Anna [Hannah] PAYNE (1827 1911) in Allington, Dorset on 25 April 1847. Neither Josiah nor Hannah appear to have been able to write their names on the marriage certificate.
The next time that Josiah appears in a public record is in the 1851 census return where he is a 29 year old police constable living in Lambeth, Surrey with his wife Hannah and 1 year old son Harry [Henry Sydney]. Josiah's place of birth is given as Bridport, Dorset. This all seems to match with Shirley's account except that his name was actually Josiah COFFIN and not Josiah PERROTT.
Further research showed that Josiah's parents George COFFIN and Elizabeth PARROTT were married on 21 July 1816 in Allington, Dorset. Again, both seem to have been illiterate so the spelling of the names can't be relied upon. George and Elizabeth had two children Josias Perrott COFFIN who was baptised on 22 July 1821 in Bradpole, and Harriet COFFIN was baptised on 6 June 1825 in Allington, Dorset.
George COFFIN was baptised on 11 July 1790 in Bryanston, Dorset [Church of England Baptisms, 1538 1812]. His parents were John COFFIN and Jane COX. He was sentenced to prison several times after his marriage to Elizabeth . On 25 March 1823 he was sentenced to 3 months hard labour for leaving his wife and family. He is described as 25 years old, a married servant, 5'6¼" tall, light brown hair, fair complexion, light hazel eyes, with gunpowder marks on his lips, chin and forehead.
He is sentenced to prison in Blandford on 21 March 1828 for leaving his family again. Described as a married servant aged 26, 5'6½" tall, with brown hair, grey eyes, fair complexion, with unsightly gunpowder marks on the left side of his upper lip.
On 17 October 1848 aged 51 he is sentenced in Dorset to 1 month imprisonment for 'larceny by servant'. This appears to have been for stealing a silver watch. George died in 1851 aged 56 and was buried on 10 April 1851 in Blandford, Dorset.
Further research shows that Elizabeth married Joseph WARD in Poole, Dorset on 8 February 1830. This is surprising she was still married to George COFFIN and he did not die until much later in 1851.
Before the Matrimonial Causes Act 1857, divorce was only possible in England by Before the Matrimonial Causes Act 1857, divorce was only possible in England by an Act of Parliament, an option only really open to wealthy families and almost an Act of Parliament, an option only really open to wealthy families and almost certainly not something that certainly not something that George or Elizabeth would have had the means to would have had the means to pursue. The record of Elizabeth 's second marriage in the parish register clearly states that she was a widow, but this doesn't seem to have been the case. Subsequent census returns indicate that this is the same Elizabeth. The census return of 1861 shows that her grandson Henry Sydney PERROTT (son of Josiah) is staying with them, but using the surname of PERROTT rather than COFFIN.
Joseph and Elizabeth went on to have two children of their own Mary Ann (baptised in Poole on 6 February 1831) and Joseph (baptised 16 January 1833). Elizabeth died in Bridport in Q1 1873, her second husband Joseph WARD having died 2 years earlier in July 1871. Did Elizabeth marry Joseph WARD bigamously? Is she indeed the same Elizabeth COFFIN? Is the George COFFIN that she married the same one that was imprisoned for the third time in 1848 and died in 1851? It seems likely, and I can't find any record of another suitable Elizabeth COFFIN or George COFFIN in Dorset at this time. Does this explain why Josiah changed his surname from COFFIN to his mother's maiden name of PERROTT.
Regardless of what happened in the past, it is pleasing to report that Josiah and Hannah seem to have had a long and happy life in Victoria, and they died within a few days of each other in May 1911. Their son Frederick George PERROTT (Shirley's great grandfather) was proprietor of F.G. Perrott butchers in Hastings, became a councillor and in 1905 was the Shire President for Frankston and Hastings but that's another story!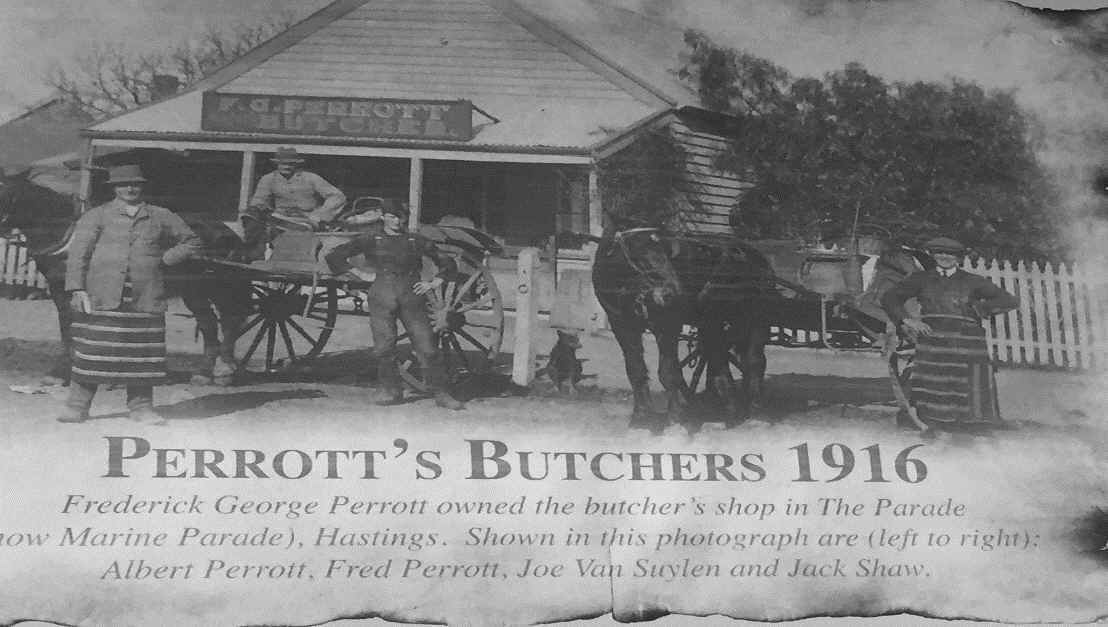 It's In the Papers
We've scoured the pages of newspapers recently added to the British Newspaper Archive website to bring you some P*rr*tt related articles.
Gravesend Journal (Gravesend) 7 January 1888
Mrs. Perrett, 3, RICHARD VILLAS, OLD DOVER ROAD, Facing Pelham Road (Late of New Road). BEGS to say she has opened a Laundry in connection with the dyeing business. Curtains cleaned and framed to equal new, from 8D. PER PAI. Everything else equally cheap. Price list on Application at above Address.
Reading Standard (Reading) 21 June 1935
MEADOW LENT FOR CHURCH FETE. Owner Fined for Moving Cattle from Field. William Perrett, a farmer, of 84, Surley Row, Caversham, was summoned at the Reading Borough Police Court on Wednesday for causing to be moved 19 Irish cattle from a place of detention before the expiration of the required six days. Frederick Prictoe, of 4, Edinburgh Road, Reading, was summoned for moving the cattle. Mr. Eric D. Berry appeared for the defendants. P.c. Blake said he saw the cattle in King's Meadow at Grove Farm, Emmer Green, one day, and the next day he found they had been removed before the expiration of the six days. When interviewed, Perrett said he let the field to St. Barnabas' Church for a fete, and as they wanted to get the field ready he moved the cattle to another. Witness added that the cattle had to go on to the highway to reach the other field. Perrett said that in moving the cattle to another field they had to go on the highway for a short distance. The licence was made out of King's Meadow, but on one or two other occasions it had been made out for Grove Farm. The summons against Prictoe was dismissed on payment of costs, 4s., and Perrett was fined £2.
Stockton Herald (Stockton on Tees) 24 August 1878
SUPPOSED DROWNING IN THE TEES. On Saturday afternoon two men, Thomas Parrott, 26, labourer, Garden street, Middlesbrough, and Richard Travers, went down the river as far as Mrs Brown's staith in an open boat. Parrott then left with a gun, and went amongst the slag for the purpose of shooting. Travers waited about three hours, and then came back to Middlesbrough, thinking Parrott had gone home some other way. Next day he found that such was not the case, and on Monday search was made amongst the slag. The gun was found, but nothing could be seen of Parrott, and it is supposed that he has been drowned and carried down the river.
Llanelly Guardian (Llanelli) 10 July 1873
TAKING WATER. Matilda Perrott, wife of Richard Perrott, Prospect Place, was charged by William Isaac, collector, with taking water from one of the public taps of the Board of Health in Prospect Place, without making an agreement with the collector for a supply. Richard Perrott appeared for his wife, and said he paid his landlord for all rates in the rent. The Bench stated that no landlord had a right to use the water of the Board without first agreeing for a supply, and if he had made any agreement with the landlord, his way would be to pay the water rent, and recover the same from the landlord. Defendant was fined 2s. 6d. and costs 6s. 6d., and if the amount is not paid in a week, to be committed to the House of Correction for 7 days.
Llanelly Guardian (Llanelli) 30 April 1874
THE RESULT OF COUGHING. William Perrott, Dolau, Llanelly, charged David Owens, Llanelly, with assaulting him on 23 rd instant. There was a cross summons charging Perrott with the assault. Mr. Howell appeared for Owens. It seems from Perrott's account that he was on his way to the potato field, when he met Owens, who told him not to make fun of him and his wife, and caught him by the throat until his face bled, and said that Perrott's wife owed £3. Perrott admitted when cross examined that his wife gave Owens a black eye, and struck him with a shovel. Owens in evidence denied all this, and said that the defendant was coughing at him.
Blandford Weekly News (Blandford Forum) 10 December 1891
FIRE AT A WORKSHOP. Early on Sunday morning, a fire was reported at the workshops in St. John's Wood Road, occupied by Mr. Perrett, printer, and recently belonging to Messrs. Lawson and Donkin, builders. It appears that the employees left the building at three o'clock on Saturday afternoon apparently safe. The fire was discovered at 6.20 a.m. on the following morning, and an alarm sent by telephone to the Fire Brigade and Captain Worth from Mr. G. J. Lawson's house. The East engine was at once on hand, and, with a good pressure of water on the stand pipe near, soon put out the flames. It was then seen that the floor of the workshops was burnt through. The fire is supposed to have been caused by a stove, which was on an iron plate, heating the wooden flooring, which was filled in all its interstices with inflammable wood chippings, &c. The damage done was not very great, and is estimated at about £40.
Gravesend Journal (Gravesend) 8 September 1883
ATTEMPT TO DESTROY A FISH POND. John Kirby, 21, boiler maker, 39, New street, James Ramsell, 20, boiler masker, and Frederick Perritt, blacksmith, 24, of 5, Edward street, Deptford, were charged on warrants with unlawfully destroying the dam of a certain fish pond at Scadbury Park, Chislehurst, the pro of the Right Hon. Earl Sydney, with intent to take the fish in the pond. Mr. Holmes Moss, appeared for Ramsell. Mr. Charles Jeal, gamekeeper, said that, between one and two o'clock on the 28 th , he went to the pond in Scadbury Park, just below the larches. When he arrived, the prisoner Perritt was removing clay from the dam. The other prisoners were close to him, and their feet were covered with clay. Perritt was removing the clay with a shovel, and witness took hold of him, and asked what he was doing. The man replied that he was trying to get some of the fish. About three yards of clay had been removed. Witness said they had better go to the station, and they agreed to go quietly, but when near the gate at Camden Park they ran away. Perritt, however, was stopped by a policeman, and the other two got away for the time. The pond was stocked with tench and carp. Cross examined, witness said no water had escaped the pond when he arrived. He estimated the damage done at 10s. John Crouch, carman, of Chislehurst, deposed to being in company with Jeal. Witness corroborated the previous witness' statement, and added that the prisoners had a water can and a shovel with them. Inspector Frost deposed that Perritt, when at the station, said he borrowed the can from Mr. Oxenden, of No. 2, the Orchard, Deptford, to take the fish in. After some argument, the charge was altered to one of wilful damage. The prisoners were convicted, and fined 40s., and Kirby and Ramsell 7s. 6d. costs and 3s. 4d. damage each, and Perritt 5s. 6d. costs and damage 3s. 4d. The money was paid.
Potteries Examiner (Staffordshire) 19 June 1875
ALSAGER. SHOCKING DEATH AT THE RAILWAY STATION. A young man named Samuel Parrott (18), was killed on Monday morning, at the Alsager Railway Station. Deceased was employed on the North Staffordshire line as number taker, and was so engaged on Monday morning. He had been in the habit of jumping on to the trains while in motion, and attempting it on Monday, he did not jump far enough. The plate being slippery, he fell off, and his back was broken. Death was almost instantaneous. An inquest was held on Wednesday, at the Alsager Arms Inn, and a verdict in accordance with the facts was returned.