Family Notes - March 2013
This is a sample of the information provided to members of the P*rr*tt Society in the most recent edition of Family Notes. Family Notes is a 56-page printed magazine that is distributed to society members every quarter.

It's in the papers …..
Jackson's Oxford Journal, Saturday, July 23, 1814; Issue 3196.
BERKSHIRE ASSIZES.
GALLINI , Esq. v. Sir Edward PERROTT
An action for criminal conversation with the plaintiff's wife. The parties were brothers-in-law, having married two daughters of the late Colonel BAYLEY of the West Middlesex Militia. The plaintiff had several children by his wife, but in consequence of religious disputes ( he being a Roman Catholic and she a Protestant ) it was admitted that they had not lived happily together. He had taken a house at Reading sometime in 1811, but had left it in March, 1812, leaving Mrs. GALLINI and Lady PERROTT together there, the latter having come on a visit to her sister. In a fortnight afterwards Sir Edward PERROTT made his appearance. During this time the intercourse, which was the foundation of the action, took place. This intercourse was proved to be of that nature as, in the opinion of the Learned Judge, left no doubt of the act of adultery. Verdict for plaintiff, damages 500 pounds.
Florence Morning News, (Florence, South Carolina USA) 18 April 1929
MILDRED HAD A CALF
"Ma! Get up and light a lamp ….. Oh, I forgot. Never mind Ma, finish your sleep." That was the night Mildred, the old red cow, had a calf. Pa was so excited he forgot they had Delco-Light and started to yell for a lantern. Then, when he got out to the barn, the lights were so bright, Pa remembered he dn't stopped to put on his pants. Kinda embarrassed, Pa was. But I'll tell you its just at times like that, that you're mighty glad you've got Delco-light on the job, day and night.
W.V. PARROTT, phone 901-W, Florence, South Carolina.
The Bucks. Herald, 10 October 2012
The tomb of a renowned family has been uncovered during a graveyard tidy up. The Hayward family included many respected surgeons in the 17th century in the Aylesbury Vale. The grave, discovered at St Mary's Church, was quite a surprise for Old Town residents association member Graham Aylett. The 80 year old said: "We've lived here (St Mary's Square) nearly 25 years and never knew about it. It's just outside our front door more or less. It was completely hidden under an ivy bush. Someone obviously got carried away with the church yard tidy up and removed all the ivy."
Despite the mistake, Mr Aylett said it was a pleasant surprise and has many of the local residents talking. He added: "We've always been nervous about cutting away the ivy. We thought there might be an urn there which would be smashed or vandalised." He believes the tomb is of Napoleonic war architecture.
There are between 11 and 15 names engraved on the tomb including names from the Parrott family. The Parrott family now has its roots as long running solicitors, Parrott & Coales in the town centre. The two successful families linked together when John Rose married Harriet Elizabeth Hayward and they had 10 children. One child, Thomas Parrott later married distant cousin Frances Mary Hayward. Frances' name appears on the tomb, with her two daughters above her. There are also multiple books on the history of Aylesbury penned by the name Hayward Parrott, grandson to Thomas Parrott and Frances Mary Hayward. Curiously many of the children's names who appear on the tomb had short lives, with one, Alfred, son of John and Harriet Elizabeth Parrott, only living for 13 months. If you know more about the family history contact Dom Bryant on 01296 619772.
Morning Herald, Uniontown, Pennsylvania, 9 July 1971
BUTLER AREA CAMP MEET
Annual Camp Meeting of the Pittsburgh Church of the Nazarene will be held July 24 to Aug 1 at the Mount Chestnut Nazarene District Center, Butler RD5. Dr. Paul Stewart and Dr. Leslie Parrott will be the evangelists and Curtis R. Brown the song evangelist..
Illustrated London News, 5 February 1853
CENTRAL CRIMINAL COURT
John Parrott was indicted for the wilful murder of his wife. The jury returned a verdict of manslaughter and he was sentenced to transportation for life.
The Times, London 22 December 1947
In the estate of William Perritt, deceased. Notice is hereby given that after the expiration of 8 days, application will be made in the Principal Probate Registry for the SEALING of the PROBATE of the WILL of WILLIAM PERROTT late of 139 Waterloo Road, Kowloon in the Colony of Hong Kong, Master Mariner, deceased, granted by the Supreme Court of Hong Kong on 8 January 1947. REID SHARMAN and Co, 36 Bedford Row, London WC1, solicitors for Henry Lionel Brutton, lawful attorney of Li Fung Ying, otherwise known as Amoy, otherwise as Pansy Perritt, the sole executrix of the Will of William Perritt, deceased.
Morning Herald (Uniontown, Pennsylvania) 11 August 1925
WOMAN DRY DIRECTOR, Honolulu Aug.10.
Mrs. Martin Parrott, a Civil Service employee in the office of the Federal Prohibition Director here today received a radiogram from Washington appointing her as acting director to succeed John Wise, who resigned, effective August 1. Mrs. Parrott is believed to be the only woman holding a Federal Prohibition Directorship.
Kalgoorlie Miner, Western Australia, 3 July 1897
Melbourne July 2
FOUND DROWNED
Open verdicts of 'found drowned' were today returned at the Inquests on the bodies of Thomas Perrett found in the Albert Park Lagoon and Thomas Walsh, found in the Yarra.

Lest we forget - part 2

Continuing the series started in the Dec 2012 'Family Notes, we move on to the Parretts and the Parritts. The lists shows Christian names (sometimes only an initial is known), their rank, service number, age (where known) and for which country they were serving. In some cases we know their next of kin and where this is the case the names are given below. Dates after the last day of hostilities probably means died later of wounds.

If you recognise any of the dead and want to know where they are buried, please contact the editor. For an explanation of the abbreviations, see next page.

SURNAME PARRETT, World War 1

A. G., Pvt, 1675, 12 Apr 1917, age 43, East Kent Rgt, UK

Arthur, Pvt, 201632, 13 Jul 1916, Royal Berkshire Rgt, UK. Husband of E.J.Parrett, Northolme, Charles St., Hillingdon Heath, Uxbridge, Middx.

Charles Blackhurst, Pvt., 43754, 4 Oct 1917, age 31, KOYLI, UK, son of Joseph Parrett of Fulham and husband of Eliza Annie Parrett, 9 Cranbury Rd, Fulham, London.

Colin Rupert Symons, Pvt, 10027, 21 Aug 1915, age 20, Dorsetshire Rgt, UK. Son of Thomas B. M. and Zoe Parrett of Millwater House, Dalwood, Kilmington, Devon.

Cyril Vivian Gordon, Pvt., 745159, 24 May 1918, CMGC, Canada, son of Benjamin and Lilian Matilda Parrett of England.

DeLacey, Pvt, 27918, 28 Feb 1917, age 23, KOSB, UK, son of DeLacey and Bertha Parrett of Suffolk.

Frederick, Rifleman, 331530, 19 Apr 1917, Hampshire Rgt, UK.

Frederick Arthur, Acting Bombardier, 2470, 19 Dec 1915, age 23, RFA, UK, son of Mr & Mrs G Parrett of 6 Desmond Street, Woodpecker Road, New Cross, London.

George, Gunner, 348559, 16 Oct 1916, age 36, CFA, Canada, son of William Henry and Lydia Parrett of London England.

Henry, Pvt, 61088, 15 Sep 1916, age 23, Canadian Infantry, Canada, son of the late

Henry and Margaret Parrett.

John,

Pvt, 14927, 28 Feb 1919, age 32, RDF, UK, son of Matilda Parrett of Stratford Toney.

Percy Cyril Edward, Rifleman, 302427, 17 May 1917 age 22, London Rifle Brigade, UK, son of Mr & Mrs Percy John Parrett of 6 Upper Baker Street, Lloyd Square, Pentonville, London.

Reginald John, Engineers' Steward, 26 Feb 1918, age 21, Merchant Navy on ss His Majesty's Hospital Ship Glenart Castle, son of Kathleen Perratt, 29 Langstone Road, Milton, Portsmouth and the late

William Bulton John Parrett.

Stanley William,

Pvt, 633343, 1 Oct 1916, age 18, London Regiment, UK. Son of Allan William and Annie Parrett, 17, Warblington Street, Portsmouth.

Thomas Luke, Pvt, 143007, 2 May 1918, age 19, MGC(I), UK, son of Thomas and Mary Ann Parrett, 52, Kenilworth Road, Roman Road, Victoria Park, London.

W., Pvt, 76630, 1 Aug 1917, Machine Gun Corps (Motors), UK.

W.J., Cpl, PO/12161, 24 Jun 1915, RMLI

William, Pvt 11757, 9 May 1915, Royal Berkshire Rgt.

William Henry, Rifleman, C/3196, 12 Sep 1918, age 32, KRR, UK, husband of Florrie Parrett, 198 Albert Road, Peckham, London

William Herbert, Cpl, 32062, 13 Jul 1916, age 25, Royal Garrison Artillery, UK. Son of Walter Hubert Parrett, Langley Park, Langley, Maidstone, Kent.

William Walker, Pvt, 467526, 28 Apr 1917, Canadian Infantry, Canada.

SURNAME PARRETT, World War 2

Cyril Horace, Lt.Cdr, 12 Aug 1943, age 44, RN on HMS Europa, son of William Samuel Meyrick Parrett and Dora Elizabeth Parrett and husband of

Anne Evelyn Parrett of Harrow, Middx.

Donald William, LAC, 904199, 14 Dec 1941, age 26, RAFVR, 238 Sdn, UK, son of William and Alice Mary Parrett of Brixham, Devon.

Eric Stuart, Sgt, Wireless Operator, 1874893, 8 Jan 1945, age 19, RAFVR, son of Leslie Stuart and Rose Helena Parrett of Wimbish.

Frederick Arthur, Pvt., 5565748, 20 May 1944, age 38, Wiltshire Rgt, son of John and Matilda Parrett of Stratford Toney and husband of F.S.J.Parrett of Grately, Hants.

Harold, Quartermaster, Merchant Navy, on ss.Oropesa, 16 Jan 1941, age 27, son of Robert Walker and Ruth Parrett.

Reginald Bert, Gunner, 1486343, 29 Jun 1943, age 42, RA, UK. Husband of Elsie Grace Parrett of Weston Super Mare.

SURNAME PARRITT, World War 1.

Charles James, Pvt 84221, 23 Apr 1917, MGC(I), UK

F.C.H., Pvt, 34709, 7 Feb 1917, age 41, Worcestershire Rgt, husband of E.A.Parritt of 64 Dean Road, Erdington, Birmingham.

Francis Edward, Rifleman, 3/5101, 30 Dec 1918, age 29, Royal Irish Rifles, UK, son of William and Charlotte Parritt of Gravesend, Kent.

SURNAME PARRITT, World War 2

Geoffrey Charles, Sgt pilot, 1313333, 29 Jun 1943, age 22, RAFVR, 76 Sdn, UK, son of Walter and Mary Arm Parritt of Northfleet, Kent and husband of

Marjorie Myrtle Parritt of Northfleet.

Stephen Arnold, Pvt, 4864485, 25 Oct 1944, age 33, OBLI, UK, son of Thomas Arthur and Ada Parritt and husband of Annie Hilda Parritt of Ashby de la Zouch, Leicestershire.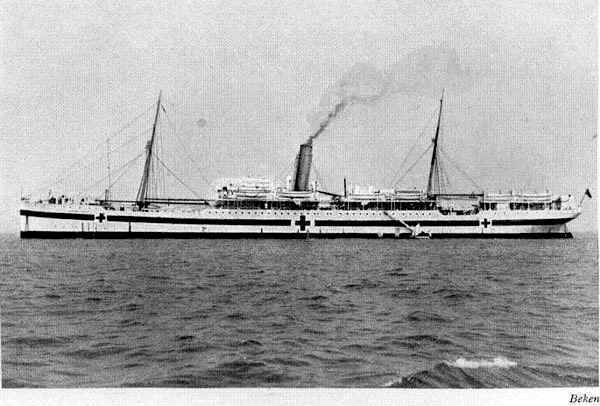 The Glenart Castle was a Hospital Ship during the First World War and was torpedoed by German U-boat UC 56 captained by Wilhelm Kiesewetter, 10 miles west of Lundy Island in the Bristol Channel in February 1918. Reginald John Parrett was one of the 162 casualties. These included the Captain, Bernard Burt, 7 medical officers, 8 nurses and 47 nursing orderlies. Kiesewetter was arrested after the war and was interned in the Tower of London but was later released on a legal technicality. The wreck of the ship is mostly intact and featured in the ITV Documentary "Deep Wreck Mysteries" on UK television.


A P*RR*TT PHOTO GALLERY
Walter Perrett (1850-1931) and his wife Elizabeth Humphrey (1856-1922). This couple qualify for our 'emmigrant' series inside the back cover of this magazine, because Walter was born in Pewsey, Wiltshire and died in Camperdown, Australia. Elizabeth, born in Cottingham, Northants. also died in Camperdown.

Walter was the son of agricultural labourer George Walter Perrett (1824- 1903) and Mary Moon (1823-1862), ancestors of past and present members nos. 5,6,1069, 1070, 1109 and 1181. The family emigrated to Australia from Plymouth in 1853 in search of a better life 'down under'.

Joseph George Henry Perratt, born Marylebone 1846, son of Henry and his wife Georgina Barrett Gooding, who are ancestors of member no.50. Joseph was described as a dancer in 1871 - it is thought he taught dancing. He married twice, and had at least 6 children from these marriages.
Two of Joseph George Henry Parratt's daughters: left, Minnie, by his first wife Lydia Carter who he married in 1867 and right Beatrice Maude, by his second wife Beatrice. When this photo was taken in about 1906, Minnie was 33 and Beatrice 20.