Family Notes - September 2016
This is a sample of the information provided to members of the P*rr*tt Society in the most recent edition of Family Notes. Family Notes is a 56-page printed magazine that is distributed to society members every quarter.

The British convicts who were sent to America

The Ancestry website has recently published a new record set containing details of the British men, women and children who were deported to the American colonies between 1614 and 1775. The source for these records is

The Complete Book of Emigrants in Bondage, 1614-1775 and More Emigrants in Bondage, 1614-1775. These records includes a number of P*rr*tt entries which I have transcribed below with the various abbreviations from the original records written out in full.

As the county in which the person was sentenced has been recorded, it may be possible to identify a member of their P*rr*tt family who disappeared from UK records after the date of transportation. Equally, the records can help to explain why an ancestor first went to America if you're researching family history on the other side of the Atlantic. Maybe this could help us to make hitherto unknown connections between US P*rr*tt families and those in the UK. If you recognise any of the names listed and can add to their story we'd love to hear from you.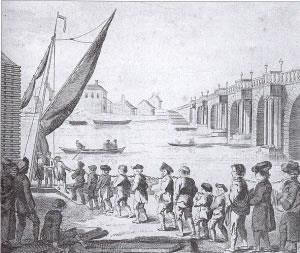 Parratt, Adam. Reprieved for transportation for Barbados Dec 1667. (Sentenced at Middlesex).
Parrett, Alice. Alias Alice Turrall. Reprieved for transportation for Barbados Feb 1664. (Sentenced at London).
Parrott, Ann. Alias Ann Griffiths. Sentenced Jan-May 1738. Transported June 1839 on the Forward to Maryland or Virginia. (Sentenced at Middlesex).
Parrott, Charles. Sentenced Sep 1737. Transported Jan 1738 on the Dorsetshire to Virginia. (Sentenced at Middlesex).
Parrott, Edward. Sentenced May 1722. Transported July 1722 on the Alexander to Nevis or Jamaica. (Sentenced at Middlesex).
Parrott, Elizabeth. Sentenced Apr 1752. Transported May 1752 on the Lichfield. (Sentenced at London).
Parrott, Gawin. Of Brampton, yeoman. Reprieved for transportation to Barbados July 1683. (Sentenced at Cumberland).
Perrott, Jacob. Sentenced Mar 1749. (Sentenced at Cornwall.)
Parrott, John. Sentenced to transportation for stealing shirts Apr 1735. Transported Dec 1735 on the John. Landing Certificate at Annapolis Sep 1736. (Sentenced at Middlesex). (Reportedly served 14 years as an indentured servant. Descendants moved to Fountain County, Indiana, then spread to Illinois, Iowa and Missouri).
Parrott, John. Sentenced for life summer 1771. Landing Certificate Bal Co., Maryland July 1772. (Sentenced at Wiltshire).
Parrott, John. Alias John Sparrow. Sentenced Jan 1774. Transported on the Thornton. May Landing Certificate AA Co., Maryland Jul y1774. (Sentenced at Westminster Sessions).
Perrot, John. Reprieved for transportation for life July 1771 .Transportation Bond to Virginia Apr 1772. (Sentenced at Wiltshire).
Perrot, John. Sentenced Oct 1771. Transported Dec 1771 on the Justitia. (Sentenced at London).
Parrott, John Jr. Transported for 14 years Dec 1771 on the Justitia. (Sentenced at Surrey).
Parrott, Joshua. Of Kensworth. Reprieved for transportation for Barbados or Jamaica July 1715. (Sentenced at Hertfordshire).
Parrott, Leonard. Sentenced Lent. Transportation Bond May 1745. (Sentenced at Yorkshire).
Parratt, Richard. Sentenced and reprieved for transportation for stealing a horse summer 1738. Transported October 1738. (Sentenced at Bedfordshire).
Perrott, Roger. Transported May 1767 on the Thornton. Sentenced at Kent).
Parrott, Thomas. Sentenced Oct 1728. Transported Nov 1728 on the Forward but died on passage. (Sentenced at Middlesex).
Parrot, Thomas. Transported Jan 1734 on the Caesar. (Sentenced at Buckinghamshire).
Parrott, Thomas. Sentenced Summer 1759. Reprieved for transportation for 14 years Lent 1760. (Sentenced at Lincolnshire).
Perrott, William. Sentenced Dec 1768 . Transported Jan 1769 on the Thornton. (Sentenced at Middlesex).

From the Royal College of Physicians
RICHARD PERROT, AM – A native of Yorkshire, and master of arts of Cambridge, and formerly fellow of Sidney Sussex College, was admitted an Extra-Licentiate of the College of Physicians, 18th May, 1670. In Thoresby's Museum was a MS "de Morbis Humani Corporis," by Richard Perrot, Licentiate in Physick, "a book of useful recipes and medicines."
THOMAS PARRATT, M.D., was born in Huntingdonshire, and was the son of Thomas Parratt, of Calworth, in that county. He was educated at Huntingdon school under Mr. Matthews, was admitted a pensioner of St. John's college, Cambridge, 8th June, 1703, aged seventeen, his father being then dead. He proceeded M.B. 1710; M.D. 1722; was admitted a Candidate of the College of Physicians 30th September, 1729; and a Fellow 30th September, 1730. His name disappears from the list in 1741.
ANTHONY DAVID PERRETT was a consultant physician at the Royal Cornwall Hospital, Treliske, born in Auckland, New Zealand. In 1963 he worked as a senior house officer and registrar in general medicine at St Leonard's Hospital in London. Two years later, in 1965, he moved to the Nuffield department of clinical medicine at Oxford, where he was research registrar to Sidney Truelove the pioneer gastroenterologist. Following this post he went to Uganda, where he was a senior medical registrar at Mulago Hospital, Kampala and an honorary lecturer in general medicine at Makere University Medical School. He remained in Uganda from 1968 to 1970 but found that he had to leave when, after independence, the regime of Idi Amin began. On his return to the UK, he spent two years from 1970 to 1972 as a senior registrar at the Royal Devon and Exeter Hospital and the Bristol Royal Infirmary before being appointed a consultant physician with an interest in diabetes and endocrinology to the Cornwall and Isles of Scilly clinical area in 1973. He was the author of several notable papers on gastroenterological and metabolic topics. A passionate supporter of the NHS, he held firm socialist principles and was an active member of the Medical Campaign Against Nuclear Weapons, Amnesty International and the Labour Party.
(Full text: http://munksroll.rcplondon.ac.uk/Biography/Details/6434)
ARTHUR PORRITT was born in Wanganui, New Zealand. He completed the clinical part of his undergraduate studies at St Mary's Hospital, Paddington. His professional career began as a house surgeon at St Mary's under the senior surgeon, V W Low, who was at that time a vice-president of the Royal College of Surgeons. Later Porritt became a surgical registrar and his career blossomed under the tutelage of Charles Pannett, the first professor of surgery at St Mary's, to whom his gratitude was lifelong. He was appointed consultant surgeon in 1936, a position he held until his retirement in 1965. By that time he had also held consultant appointments at many other hospitals, including the Royal Chelsea, the Royal Masonic, King Edward VII, Princess Louise, and St John and Elizabeth.
(Full text: http://munksroll.rcplondon.ac.uk/Biography/Details/5017)
.


A P*RR*TT PHOTO GALLERY
James William Parrott – known as Jimmy – came from Leith, Scotland, but lived with his wife Mary at 1 Clytha Crescent, Newport, Monmouthshire at the time of his death at sea aged 36 on 28th March 1941. He was a 2nd officer on the SS Koranton which was torpedoed by a German U-boat, U-98, while carrying a cargo of pig iron. He was the son of James Wiliam Parrott and Isa Watson Paterson.
John Bateman Perrott was born on 29th September 1830 in Ireland. Around the age of 20 he emigrated to America and in 1956 he married Anne Atkins in Auburn, New York.

They had a large family including George, Samuel Walter, Mary Jane, Richard Henry, Eunice, Asa, Adaline, Lucy, Alice, Alfaretta Tiny and Robert.

John was a farmer in Ohio and later moved to Illinois. He died at the age of 94 on 1st May 1925.

Benjamin Porritt was born on 22nd November 1818 at Holden Clough, Birstall, Yorkshire. He worked in the woollen trade and married Charlotte Wheeler on 16th October 1842. They had nine known children – Hannah Elizabeth, Emily, Eliza, Walter, Albert, Rawson, Marshall, Annie and Josiah.

Following his death on 7th March 1875 probate recorded that he was "formerly of Littletown in the Township of Liversedge in the Parish of Birstal but late of Carlinghow in the Parish of Batley, both in the County of York, Yarn Manufacturer, who died 7th March 1875".