Family Notes - June 2020
This is a sample of the information provided to members of the P*rr*tt Society in the most recent edition of Family Notes. Family Notes is a quarterly magazine that is distributed to society members in both printed and electronic format. All previous editions of the journal since 1984 are available online to society members.

Perrott & Sons, Cork
The well known photo below was taken in Grand Parade in Cork, Ireland on 13 March 1922. This was during the Irish Civil War when Michael Collins was addressing a large gathering about the Anglo-Irish Treaty. In the top right of the photo you can see Perrott & Sons shop (number 36).
The shop was originally owned by Thomas Michael Perrott (1864-1921). Thomas was born in Cork City on 26 February 1864 to Charles Perrott (1839-1907) from Bandon and Anne Callaghan (1845-1914). Thomas married Bridget Murphy on 12 April 1888 and ran a painting & decorating shop in 36 Grand Parade. Ironically, Thomas Perrott was tragically killed along with 9 other innocent civilians when the IRA attacked a train carrying British soldiers in Upton near Bandon on 15 February 1921. One of Thomas's sons emigrated to Western Australia where the Perrotts still have a very successful painting & decorating business.
The Cork Examiner featured the photograph below of Thomas's funeral with the following caption:
"FUNERAL OF ONE OF THE VICTIMS. The funeral of Mr. Thomas Perrott, Cork, took place yesterday, and it was made the occasion of marked respect on the part of the citizens for the deceased and sympathy with his family in their bereavement under such shocking circumstances."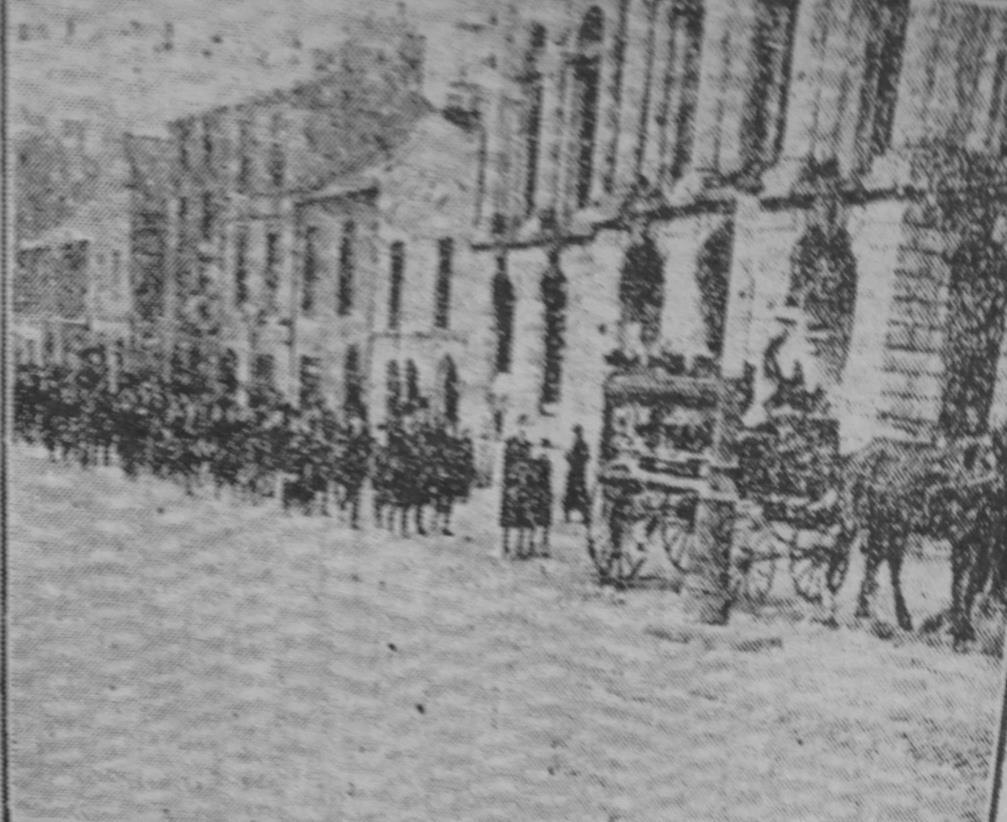 It's In the Papers
We've scoured the pages of newspapers recently added to the British Newspaper Archive website to bring you some P*rr*tt related articles.
Somerset Standard (Somerset, UK) 10 January 1964
HERBERT PERRETT. The rector (the Rev. H. Vaughan Jones) paid tribute to the memory of Mr. Herbert Charles Perrett, of Denmead Farm, Tellisford, in a short address at the funeral service at Tellisford Parish Church on Thursday last week. Mr. Perrett. whose death was recorded in our issue of last week. had farmed in Tellisford for many years and had been churchwarden for a period of 56 years' unbroken service. In his address the rector told the congregation that Mr. Perrett's record as churchwarden was one of which anyone might be justly proud. His familiar figure in the church and his presence in the village would be greatly missed. He had been turning over in his mind what single word could be used to describe and sum up the different qualities of Mr. Perrett's character and personality and he had come to the conclusion that the most meaningful would be faithfulness. ROOTED IN RELIGION. Herbert Perrett was a man whose religion really meant a great deal to him he had considerable faith. His life could well be said to have been rooted in his religion and from that root sprang the font of religion, which was displayed in the qualities of character and the actions and example of his life..
Manchester Evening News (Manchester, UK) 21 March 1907
PARRATT'S CHOICE OF BOOKS. The prisoner, Thomas William Parratt, had an interview with his father in the cells at Crewe yesterday. The interview was very affecting, and both the father and the boy were overcome. Parratt's birth certificate shows he is really over sixteen. It has been suggested that he has been reading pernicious literature, but this is stated to be untrue. He regularly attended Sunday school, and earned many prizes. He had the opportunity given him of selecting the books, and some indication of the bent of his mind may be gathered from the fact that he chose "Pilgrim's Progress," "Dare to Do Right," "Life of Gladstone," and books of like character. His Sunday school teacher speaks of him as a steady and industrious boy..
Somerset Standard (Somerset, UK) 20 October 1899
DEATH OF MR. AND MRS. PERROTT. Two more deaths occurred in this village during the past week, the first being that of Mrs. Perrott, which took place on Wednesday, the 11 th inst., and was followed by the death of her husband on Saturday, both deaths occurring shortly after nine o'clock in the morning. Mr. Perrott was a respected resident in the village, and was formerly a farmer occupying Barrow House Farm. Upon retiring from business he became the owner of a house at Mogg's Hill, where the remainder of his days were spent. The funeral took place at St. Lawrence's Church on Tuesday, the remains being placed in the family vault in the presence of a number of sympathetic onlookers … The coffins were of polished elm, with black furniture, and bore the respective inscriptions: "John Wesley Perrott, born October 1 st 1828, died October 14 th , 1899" and "Elizabeth Perrott, born June 29 th , 1829, died October 11 th , 1899." This was the first time for 40 years in which the remains of a husband and wife were interred at the same time in the parish churchyard..
West Bridgford Advertiser (Nottingham, UK) 6 December 1919
A MODERN PURITAN. Mr. Arthur Porritt, the well known Non conformist journalist, has written a most admirable and interesting book, a copy of which I have received from the publishers, Messrs. Morgan and Scott. "The Strategy of Life" is Mr. Porritt's theme, and he has written specially for young men. The result is a volume of rare charm and usefulness, in which there is expounded choicely and vigorous philosophy of living. Mr. Porritt is a practical idealist ; he knows what life is as well as what it ought to be, and, while his book is entirely free from anything like preaching or censorious narrowness, it is full of sound advice. The world has outgrown the old Puritanism, but the state of society to day suggests that there is room for a new Puritanism less rigid in its proscriptions and more scientific in its view of human nature. A clean mind in a sound body both well occupied, whether in work or recreation, is what Mr. Porritt sets before the young man of to day as things more to be desired than gold. It is long since I have read such a sane and stimulating book, and I trust it will be read widely as it deserves to be..
Truth (London, England) 26 November 1886
I was under the impression that the peine forte et dure system of inquisition was obsolete in England ; but, to judge from the proceedings consequent on an attempted burglary at the Manse House, Shipton, Oxfordshire, last week, I was wrong. Mr. Parrott, it seems, heard a noise in his house on Friday morning, and threw up his bedroom window. He then saw a burglar escaping through the dining room window. Having a gun, he challenged him ; but the man only ran the faster, until he stumbled and fell on the lawn. Mr. Parrott fired, seriously wounding the runaway, who was then shut up in the stable till a policeman arrived two hours later. Removed to the Radcliffe Infirmary, at Oxford, the man "obstinately refused his name or address"; but, according to the reports in the papers, the doctor was equal to the occasion, and applied the galvanic battery to the wounded victim. A few smart shocks seem to have had the desired effect, and the tortured man stood, or lay, confessed as Thomas Wilson, of the Plasterers' Arms, St. Thomas.

Jack Lewis PERRETT
New member Kevin PERRETT asked if we could look into a family mystery regarding the Weston super Mare PERRETTs. Specifically, he was interested in finding out more about his great grandfather's older brother, Jack Lewis PERRETT , who was born in Weston super Mare in 1886. Kevin says: "the rumour is he emigrated to the USA it would be great to substantiate this".
Kevin provided a possible date of birth for Jack of 24 June 1886, which corresponds with a baptism of John Lewis PERRETT in Weston super Mare, so it is likely his birth occurred some time shortly before this date, which would be in line with the birth registration found for John Lewis PERRETT in Q2 1886 in Axbridge registration district. A certificate might be ordered from the GRO to verify this, however subsequent records identified provide a date of 30 April (though he's not always completely accurate with the year!).
Jack Lewis PERRETT was officially known as John Lewis PERRETT . A US passport application was found for him dated 5 June 1922 which names a wife, Ada , and says that he was born in Weston super Mare, the son of George PERRETT .
This record gives his date of birth as 30 April 1886 and shows that he became a naturalised US citizen on 30 September 1915 in Bridgeport, Fairfield County, Connecticut, where he worked as post office clerk. The application includes a photograph, not reproduced here due to copyright, and can be found in the U.S. Passport Applications, 1795 1925 record set on Ancestry.
The US World War I registration card for John Lewis PERRETT gives his date of birth as 30 April 1884 and occupation as post office clerk, again with an address in Bridgeport, Connecticut. He is living in Bridgeport with Ada at the time of the US federal census in 1920; it appears that they had no children.
The most recent census available for the US was taken in 1940 and shows the couple still in Bridgeport, with Jack's occupation described as 'letter carrier' working for the United States Mail, while ten years earlier in 1930 he describes himself as a bookkeeper employed by the post office.
Jack did not report his year of birth consistently, but seems to have at least been quite certain about the day and month. Naturalisation records also on Ancestry give his date of birth as 30 April 1885 and state that he arrived in the US on 15 October 1908 at White River Junction, Vermont, having travelled there from Montreal, Canada on the Grand Trunk Railroad.
These papers once again record that he was born in Weston super Mare and also note that he had a fair complexion, dark brown hair and hazel eyes; he was 5 feet 9.5 inches tall and weighed 156 pounds. He was working at this time as a corset ironer in Bridgeport. A corresponding index card showing his date of naturalisation as 30 September 1915 gives his address as 450 Logan Street.
A US World War II registration card can also be found for Jack Lewis PERRITT (sic) in Bridgeport which says he was born on 30 April 1886 in Somersetshire, England and is an employee of the post office. His wife Ada is once again named here.
According to the Connecticut Death Index, 1949 2012 record set on Ancestry, John L. PERRETT husband of Ada died in Wallingford, Connecticut on 30 July 1972. This matches with a simple headstone at Mountain Grove Cemetery and Mausoleum, an image of which has been provided below courtesy of Find A Grave contributor Gracie A MATISYN.
Passenger lists show that John Lewis PERRETT returned to England on several occasions to visit his family, including at least once after World War II. If any of our members researched Jack previously and have further information to share about him, please get in touch with Kevin. Likewise, if anyone particularly those based in the US can suggest useful online resources for further research in Connecticut, please contact Kevin.