Family Notes - September 2020
This is a sample of the information provided to members of the P*rr*tt Society in the most recent edition of Family Notes. Family Notes is a quarterly magazine that is distributed to society members in both printed and electronic format. All previous editions of the journal since 1984 are available online to society members.

The Order of St John
Charles Perrett recently shared photographs that were taken at St. John's Gate, home of the Order of St. John. Images below relate to Colonel Sir Herbert Charles PERROTT, Ethel Lucy, Lady PERROTT, and Sir Edward George Lambert PERROTT. Most members will no doubt recognise the familiar pears used in the arms of the PERROTT family. Charles notes that: " Knights or Dames of the Order (KStJ, DStJ) can put the cross of the Order behind their arms. Knights and Dames Grand Cross (GCStJ) may also put the arms of the Order "in chief" above their own arms, they are also entitled to apply for heraldic supporters. Also worth noting that the Order of St John is a Royal Order and not a State Order like the Order of the British Empire etc. so knights of St John are not called Sir."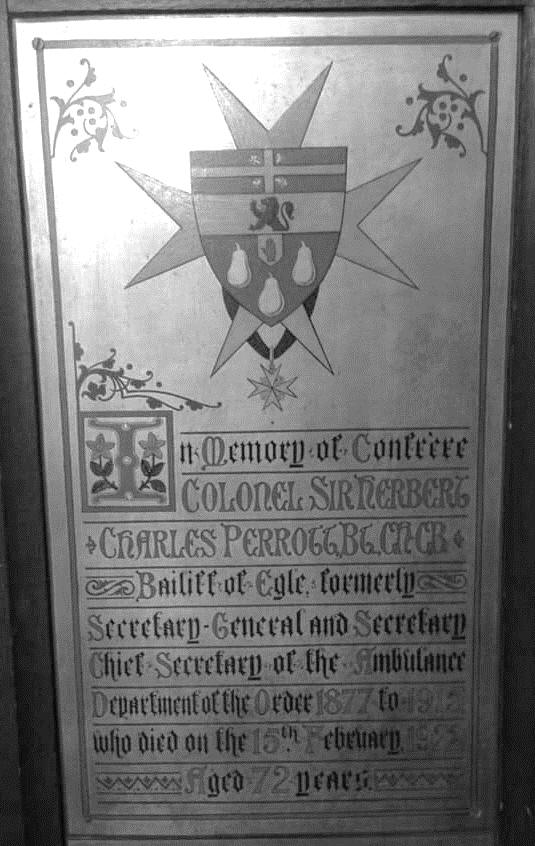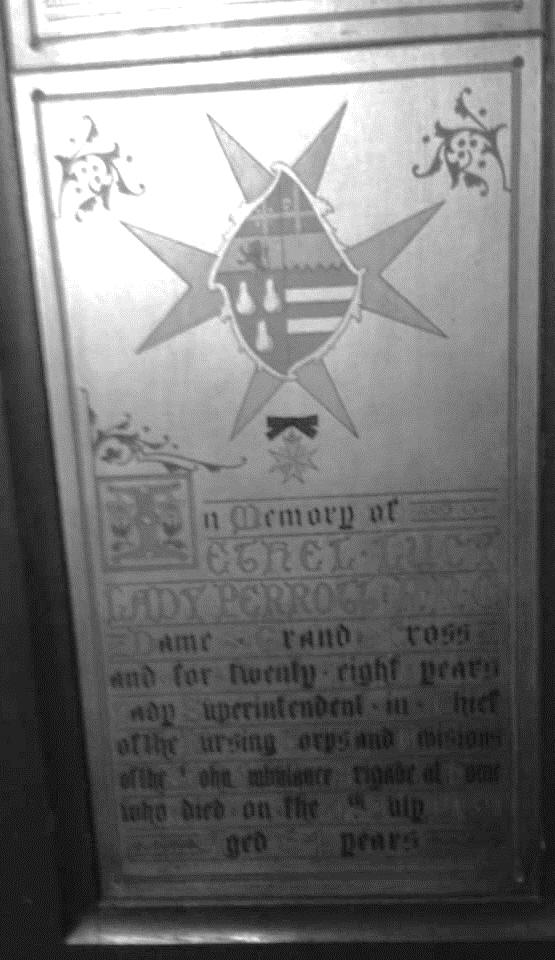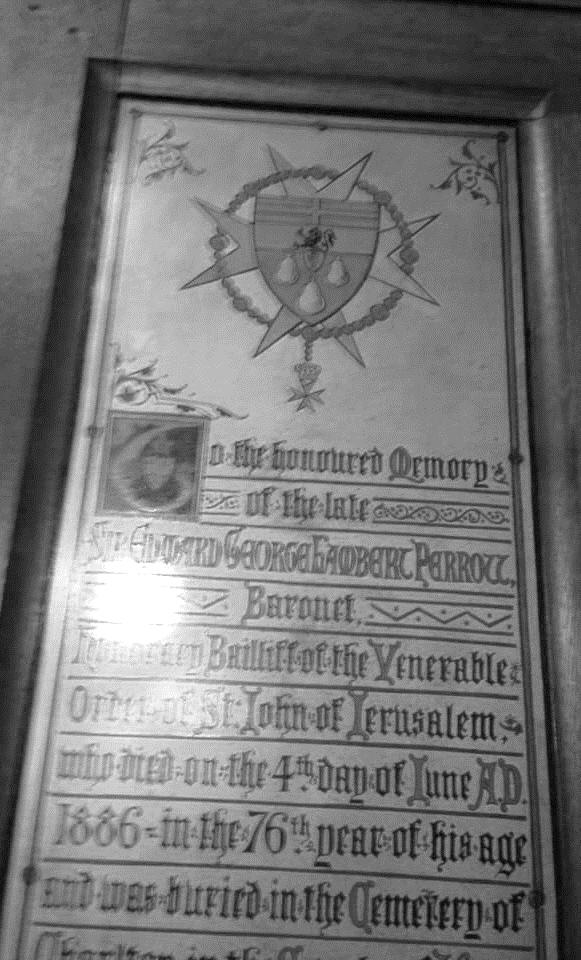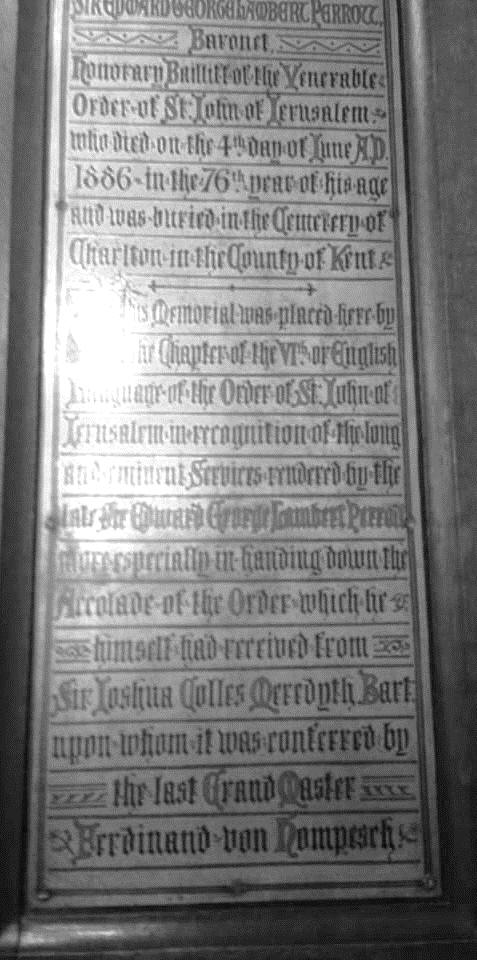 Who is Miss Perrett?
On 22 September 1902 an advertisement appeared in the Jersey Evening Post proclaiming that:
A 9 DAYS' MISSION WILL BE CONDUCTED BY MISS PERRETT IN THE PRIMITIVE METHODIST CHURCH (AQUILA ROAD), COMMENCING ON SUNDAY NEXT, SEPT. 28 TH 1902. SERVICES AT 11 a.m., 3 and 6.30 p.m. SPECIAL SERVICES WILL BE HELD EACH EVENING (SATURDAY EXCEPTED), Children's Service from 6.30 to 7.30. Adults' Service commencing 7.30. YOUNG PEOPLE ESPECIALLY ARE INVITED.
A few days later, the newspaper asked the question "WHO IS MISS and offered the explanation that she is "an Evangelist set apart by the Primitive Methodist Conference to work especially among the young" adding that she had conducted a successful mission in England and her services were so much in demand that she was usually booked twelve months in advance. The paper goes on to say that she is an attractive speaker whose success depends on "the forceful and winning way in which she presents the truth.
Whilst this might have provided Jersey's residents with some insight into what they might expect at these services, it doesn't provide much helpful information from a genealogical perspective. The newspaper goes on to report on the services, noting that they were very well attended and giving details of the subject matter covered, but no further biographical detail. Then, on 9 October 1902, the Jersey Evening Post promises that Miss Perrett is going to relate "The Story of Her Life" at a public meeting that evening …
The following day, there is a report from the public meeting. Miss PERRETT mentions that Jersey reminds her of her birthplace, Torquay, where she was "brought up in a Christian home, by godly and describes how the death of a beloved sister led to her desire to find Salvation. She goes on to say that her father's death led to her taking on duties of conducting family worship when she was only a young girl and then, aged 17, she opened a private school and ran prayer union meetings at her home. There is also a story about her mother being "miraculously cured by faith, after being a cripple for over 12 years". She had later been on a mission to Halifax and continued in such work ever since.
There are some useful clues here for someone familiar with this family, but quite a few P*RR*TTs in the Torquay area and we can't be sure of her age from this account … perhaps one of our members whose P*RR*TT ancestors hail from this part of Devon might be able to answer the question " WHO IS MISS PERRETT?"

It's In the Papers
We've scoured the pages of newspapers recently added to the British Newspaper Archive website to bring you some P*rr*tt related articles.
Daily Mirror (London) 30 January 1929
Her Shooting Box. Lady Perrott has just left London with her daughter Priscilla, who was a debutant two years ago, for Rome. Miss Perrott is not only attractive, but because of her witticisms and amusing sayings which, no doubt, she inherits from the great aunt, Maria Marchioness Ailesbury, she is very much sought after at parties. Miss Perrott is very lucky, for she is the possessor or her own shooting box at Withypool.
Hampshire Advertiser (Hampshire) 3 December 1938
Well known in Southampton. Mr. Frank Perrott, who died at his home in Fawley on Monday morning aged 58, was assistant engineer at the A.G.W.I. refinery. Formerly, he was engineer designer with Messrs. Day and Summers, Northam, for many years. When Mr. Perrott joined the engineering staff of the Agwi Petroleum Corporation about 10 years ago, the refinery at Fawley was very much in its infancy, and he had a big share in bringing it up to its present position as one of the largest in the country. From the first, his great energy was remarked by all; his thoroughness for detail and his fine example have left a mark which will not pass away. In the works, Mr. Perrott was found to be always a capable and sympathetic leader of his men, and out of the works they found him a true friend. In the social and welfare sections he was an ever ready helper, and there was no branch of that work with which he was not actively associated. Under his chairmanship the Musical Society grew from a small glee party to an association which, for the past five or six years, has presented very successfully several of the works of Gilbert and Sullivan. A family circle which has always set a pattern of the English home at its best has lost a husband and father who had few to equal and none to excel him. For the funeral, on Thursday, a choral service was held in Fawley Church, with members of the Agwi Musical Society in the choir stalls. Mr. John Follett, a member of the Society, sang the solo "By Galilee's Calm Waters," which was a great favourite with Mr. Perrott. The Vicar (the Rev. C. Cole Hamilton) officiated.
Daily Mirror (London) 16 March 1925
SAVED BY MATTRESS. Father, Mother and Three Children Jump from Burning House. A Sheffield family narrowly escaped death yesterday morning, when their house caught fire. James Parrott, living in St. Stephen's road , was awakened by the smell of burning, and, rushing out of his bedroom, found the staircase impassable. The only other exit was by means of the window, and Parrott accordingly threw out of the window mattresses and other bedding, so that his wife and three children and finally himself were able to jump to safety.
Saint James's Chronicle (London) 31 May 1817
Hatton garden. Yesterday G. Harvey and Esther Perrott were brought here, the former for stealing two sheep, the property of T. Saunders, at Islington, and the latter for receiving the same knowing them to be stolen.