Family Notes - June 2006
This is a sample of the information provided to members of the P*rr*tt Society in the June 2006 edition of Family Notes. Family Notes is a 56-page printed magazine that is distributed to society members every quarter.

It's easier to park, Down Under!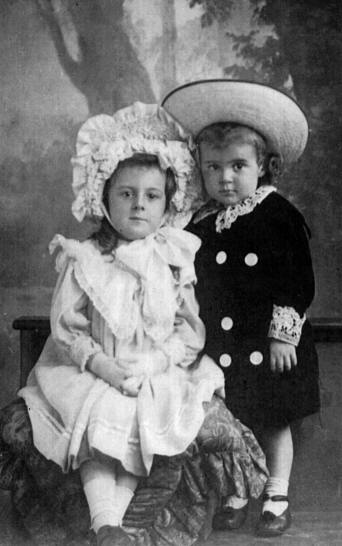 F.G.Perrott's butcher shop, Hastings, Victoria, c.1916.
L to R: Albert Perrott, Fred Perrott (on cart) Joe van Suylen, Jack Shaw.

Parish Registers contain many entries which the Vicar of the time never thought would be read by the
general public. Here are a few more gems:
Broadwindsor, Somerset
Burial 18 August 1819
"William Dowlin, age 26. The above William Dowlin met his death by the upsetting of a timber carriage which with the timber fell on him. His master Dunham refused to pay for the coffin and Dowlin was buried at the charge of the parish."
Banwell, Somerset
Burial 1718
"The intended or pretended or reputed wife of George Dickason."
Shapwick, Dorset
Burial 28 September 1870
"Edward Short Ilott buried 28 September 1870. During the funeral the river flooded and the coffin floated from the grave and was never found. It was presumably washed out to sea."
Sowerby, Yorks
Burial January 2nd, 1738
"Buried John Coggan. Coggan was stolen out of his grave by the Sexton and some others and anatomized and made a skeleton."
Brancepath, County Durham
Burial 23 April 1740
"Ye scattered bones of Michael Robinson, late schoolmaster at Cornsey were found upon Billy Mill in this parish, he having been lost from Martinmas last; found April 21st. Providentially finding a mastiff dog eating of him there was only left ye skull and both legs, also his clothes."
Hungerford, Berks
Baptism 16 December 1717
"Baptised James the Third (so named) the son of Jehosophat and Jane Kimber, who had two other sons of the same name. This man once accidentally met and conversed with the King and from thence named all his sons James."
Warminster, Wilts
Baptism, 31 July 1791
"Baptised William Riddick, daughter of William and Sarah. It was intended that this child, being a girl, should have been christened Maria, but through a mistake of the godfather it was named William."
Wiveliscombe, Devon
Baptism 22 June 1715
"Jane daughter of John & Elizabeth Webber baptised. Ye child was born within 4 months of their marriage and ye mother is ye father's aunt."
Durleigh, Somerset
Marriage, 5 March 1753
"John Bruford of West Monkton & Susanne Davis of Hunstable in the parish of Chilton. An unfortunate marriage - she poisoned him and was burned for so doing at Wells the ensuing Autumn."


A P*RR*TT PHOTO GALLERY
In Haddam, Kansas, in the 1940's Glen
and Katherine Parrett ran a local store
which sold groceries, meat and fresh
fruit. The photo above shows their 2
boys with the firm's delivery truck.
They lived with their 4 children above
the store, on the second floor of the
Haddam Hotel. In 1950 the family left
Haddam but these photographs may
strike a chord in some member's memory.
Are Glen, Katherine and the kids on
your family tree?
| | |
| --- | --- |
| The lady (right) is Emily Jane Dallas, née Linwood, born in London in 1841. She and her husband moved with their 2 children to South Africa where her husband died in 1871. In 1877 Emily gave birth to a daughter, Edith Dora (usually known simply as Dora). Emily left South Africa for the UK sometime after 1875 and by 1881 was working as a domestic nurse in Hertford. | |


Louisa Eliza Perritt went to Clark County USA in 1927 to work for the Red Cross; her orders were 'to clean up the schools.' She believed in good health, that alcohol and tobacco were horrible and certainly fried foods and sugar were not at all good for you! Miss Perritt served 6 schools in Clark County, usually wearing her navy suit and hat but on occasions a white tea dress, as pictured here. She had many wrecks in her green coupe car; once she was hit by a train but only suffered a stiff neck. Sadly in 1959 she broke her hip which led to her death at the age of 85, never they said, having once got mad with anyone! When results of health studies in Clark County were found to be far better than in similar surveys, proud residents were quick to point out that the improvements could be directly attributed to Louisa and the good that she did during her time as the health nurse.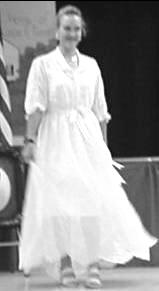 Many Children from around Bath in Somerset spent their half-term holiday in the Autumn of 2005 filming and here we have Amy and Kelly Parratt eyeing their excellent work on their own silver screen before the big premiere at their local theatre.