Family Notes - September 2006
This is a sample of the information provided to members of the P*rr*tt Society in the September 2006 edition of Family Notes. Family Notes is a 56-page printed magazine that is distributed to society members every quarter.

How to Buy a UK Certificate of Birth, Marriage or Death
| | |
| --- | --- |
| | Certificates have been issued since 1 July 1837 in England and Wales |
| | Anyone can buy a certificate |
| | They can be bought in person, through the post, or via the internet |
| | They are essential when tracing ancestors into the early 19th century |
METHOD 1 - PERSONAL APPLICATION
Go to the Family Records Centre,
1 Myddleton Street, Islington EC1R 1UW
Tel: (from within UK) 0845 603 7788 (from outside UK) +44 845 603 7788
Check the indexes (free) there for the certificate you want and order and pay for it there. Certificates cost £7.50 each
or
Go to the Register Office for the area in which the event took place and order and pay for it there. Get the address of the office from the local telephone directory, under 'REGISTRATION OF BIRTH, DEATHS AND MARRIAGES'. Certificates cost £7.50 each.

METHOD 2 - BY THE INTERNET
www.gov-certificates.co.uk This is the official government website dealing with certificates. For normal service each certificate costs £23, post free delivery. For years family historians have complained about the high price of UK certificates but you probably need only one or two of them, certainly to start with. You incur no expenses for travelling to the Family Records Centre and particularly from overseas the result justifies the expense. Go for it!

ADVICE: Birth certificates will give the date and place of birth, the parents names and father's occupation. Marriage certificates will give the names of both parties and their status (single, widowed, etc), their addresses, their fathers names and occupations as well as the date and place of marriage. Death certificates will often be the least useful when it comes to tracing ancestors but if you are interested in the date, place and cause of death it is the only reliable source of this information.


A P*RR*TT PHOTO GALLERY
The Web Site, 'Ghosts and other Haunts, New Zealand' manages to find a P*RR*TT and describes him thus:

"Totaranui. Another hut with an eerie sense of history can still be found in Awaroa. "Runaway sailor" Jimmy Perrott died more than 70 years ago but his presence lives on in his tumbledown cottage at Silver Point. Visitors to the tiny two roomed hut can't help feeling they are the uninvited guests of a man
who lived a remarkable life.

Born in England, Perrott ran away to sea at the age of nine and, jumped ship at 14 in Nelson, where he hid out among the Maori at Cable Bay. He was a gold miner at Collingwood and Wakamarina, and worked as a flax cutter and hop drier before marrying a Ngatirahiro woman and having a child, both of whom died. He spoke fluent Maori and knew the legends of the area including the tale of the goblin who terrified Maori in the Canaan area with a fearful rumbling noise. Perrott's legacy is the avenue of plane and macrocarpa trees he and Hanna Gibbs planted in 1856 in Totaranui."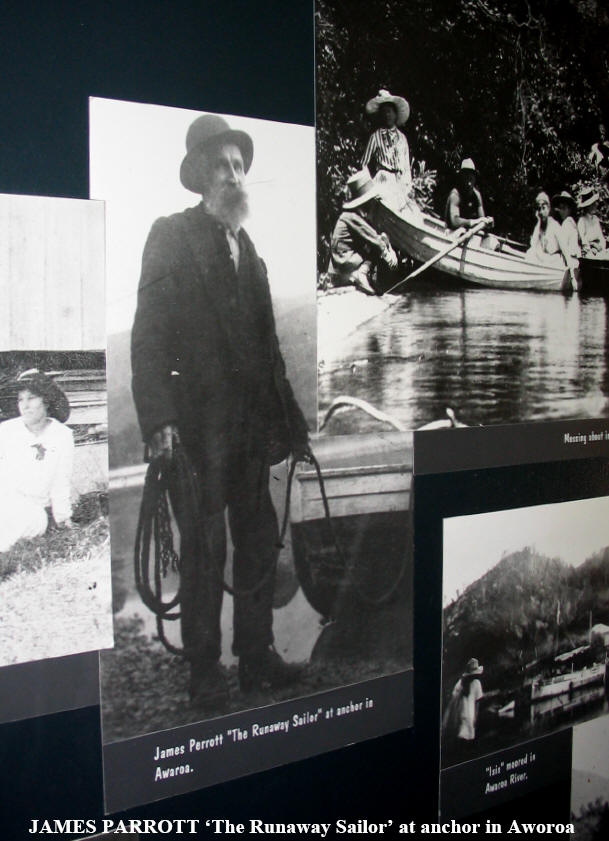 George William Parratt (seated centre, below) was born in 1837 in Bath, son of George Ferris Parratt and Ann, née Buck who had previously lived in Bristol but whose origins were in Chipstable, Devon. The family joined the Church of Jesus Christ of Latter Day Saints ('the Mormons') in 1851 and decided to move to Utah in 1864. George married 5 weeks before departure; his bride was Mary
Ann Berry.
The transatlantic journey was hard; several children died en route. The Civil
War was in progress and the vessel was intercepted by a Confederate gunboat as it neared land. The route overland after leaving the ship was arduous and not for the faint hearted but they survived and settled in Utah and had 4 children.
Mary Ann died in childbirth in 1871; in 1872 George William married Minerva
Ann Perkins, 22 years his junior. She had a leg amputated at the age of 12 and
her marriage prospects were not good until she met George. She is seen sitting
next to him in the photo above. They had 8 children of whom six survived.
Regrettably the marriage did not survive. It is thought Minerva became jealous of her eligible stepdaughters. However we have no record of the grounds for her
divorce.