Family Notes - June 2015
This is a sample of the information provided to members of the P*rr*tt Society in the most recent edition of Family Notes. Family Notes is a 56-page printed magazine that is distributed to society members every quarter.

A Smuggling Tale
By Ruth Draycott.
My husband Anthony's Perrett ancestors knew all about smuggling, mainly from the lawful side – but then there was Maria; more of whom later!
In 1711 Anthony's 6 x great grandfather John Perrett married Jane Loud in Stoke Gabriel, a village on the River Dart. With the road network being so poor and living in a waterside village, transport for goods and people by boat was an essential part of life and so, many villagers learned to handle a boat from a young age, later following water-borne occupations. The Perrett family certainly did and Anthony's 4 x great grandfather, Richard (1) Perrett (b Stoke Gabriel 1762, d Newton Ferrers 1833) became a mariner moving downriver to Dartmouth, where, in 1788, he married Elizabeth Cole at Townstal St Clement before settling in the Brixham/Kingswear area.
Richard (1) and Elizabeth produced 8 children. Three of the boys – Samuel (b 1789 Brixham), Richard (2) (b 1797 Kingswear) and Henry Nathaniel (b 1807 Kingswear) all followed their father into the Navy and then the Preventive Boat Service (later reformed as the Coast Guard). Although originally established as part of the defence structure, these bodies were also tasked with saving lives at sea and deterring smuggling by seizing waterborne cargoes of the 'Free Traders'.
The River Yealm in Devon, which opens into Plymouth Sound, was a noted smuggling hotspot, with easy access to the Channel Islands and France. Coast Guard records show that, at least from 1817, Richard (1) was posted to Newton Ferrers/Noss Mayo serving as Chief Officer of the Yealm Preventive Boat with Samuel serving as a Commissioned Boatman. In 1812, at Brixham, Samuel had married Sarah Ashford and they produced at least five daughters – Maria (1812), Elizabeth Ashford (1814), Sarah (1816), Louisa (1818) and Matilda (1820). Thus both families moved to Newton/Noss.
1822 was a watershed moment for the Preventive Boat Service as it was reorganised into H.M. Coast Guard. Richard (1) retired in 1823 on a pension and died in 1833 at Newton Ferrers, where he is buried. Samuel was sent to Ireland in 1822 and remained there, serving at various stations until 1850 when he was posted to Rattery Head, Aberdeen and from thence to Buckie, Banff in 1851 when he retired on a pension of £40 p.a. due to ill health.
Samuel's brother Richard (2) had also served as a 'Seaman on the Yealm Preventive Boat' and he too was posted to Ireland in 1821, after marrying by licence Philippa Kingcombe in Noss Mayo (Revelstoke). Richard (2) and Philippa had a total of five children – Richard (3) (1824), Jane (1828), John (1830), George Henry (1832) and Elizabeth (1835). Richard (2) moved around Ireland to various postings until 1832, when he was sent to Burnham Overy Staithe in Norfolk and afterwards to Poole. He was then returned to Ireland, to Waterford/Dunmore East, where he died in 1838. Philippa and her children returned to her home village of Noss Mayo, where she enjoyed the support of her family. Local census returns show that she ran the village shop until her death in 1886. Her second son, John Perrett (1830-1915), joined the Navy and later became Chief Coastguard at New Quay, Cardigan.
The large Kingcombe/Kingcome family was well—established in Newton/Noss and although Philppa's branch of the family appears to have been law-abiding, the same cannot be said of some of her Kingcome cousins! When Philippa's brother-in-law Samuel Perrett was posted to Ireland, it seems that his daughter Maria remained in Devon, possibly staying with her grandparents Richard (1) and Elizabeth. Her grandfather died in September 1833 and a few weeks later, in November, Maria married Philip Brown Kingcome at Stoke Damerel church. Philip was a fisherman from Noss Mayo – pilchard fishing was a lucrative source of income for the local villagers – however he was also heavily involved in smuggling! One of Philip's brothers, Richard 'Kingcup' Kingcome, enlisted as a Coast Guard and served at a number of Cornish stations before the temptation of smuggling profits became too much and he left the service to open a pub, the Crown and Anchor, on the quay in Fowey. The book 'Smugglers of Fowey' written by Henry Shore, a former Naval Commander and Coast Guard, devotes a whole chapter to Richard's exploits and also gives dishonourable mention to Philip 'Kingcup', Maria's husband!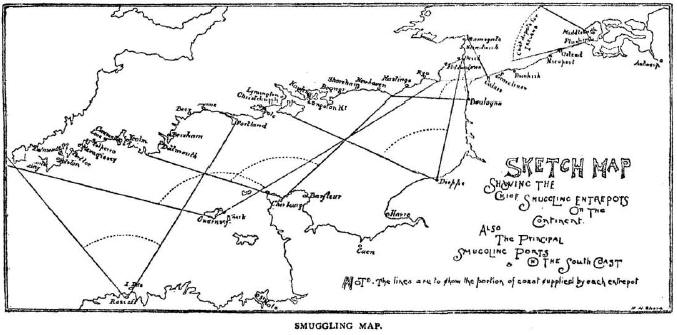 Not all of Maria's Kingcome brothers-in-law, however, were free traders. One of Philip and Richard's older brothers, John Kingcome, was beyond reproach, serving in the Royal Navy and, at one time, serving as a Coast Guard Commander (wisely being posted to Suffolk!). He ended his career as an Admiral!
Philip and Maria produced two children, William (1834-1870) and Louise (1838-1849?) but poor Maria's marriage was to be short-lived. She was widowed in November 1838, the year of the big storm.
In Plymouth and West Devon Record Office is a transcript of 'Evens Diary', written by the local tailor and occasional smuggler. It gives a fascinating account of life in the area at this time. His entry for 28th November 1838 reads:
"Heard part of James Chinowath's cargo washing ashore, being a great storm in which Jn. Reeves' cargo was all lost and several vessels wrecked – the Eliza of Cawsand and cargo lost. Philip Kingcome, Wm Jenkins, T. Langdon and James Hardy drowned".
Commander Shore suggests that Philip had been to buy brandy at Roscoff and the boat was wrecked on the Mew Stone on the return trip, the wreckage being washing into Hope Cove with barrels still attached. Philip's body was never recovered.
Maria moved in with her widowed grandmother, Elizabeth, who died in 1842. The Noss Mayo census returns state that Maria worked as a schoolmistress and subsequently as a needlewoman, before remarrying in 1864 – yes, to another Kingcome cousin, John, but this time he was a carpenter and a member of a different branch of the family! Later census returns show John and Maria, happily settled in their own cottage with John continuing to work as a carpenter. In 1891 Maria's cousin, the widowed Mary Bunker (nee Perrett) and three of her family moved in with them. Mary was the daughter of Henry Nathaniel Perrett, the brother of Maria's father, Samuel. Henry Nathaniel (1807-1872) was a Coast Guard who had served at postings in Kent and Suffolk before returning to Noss on his retirement. He and his wife Elizabeth (nee Knight, 1804-1866) are buried in Newton Ferrers churchyard.
Maria and Philip's son, William, became a Merchant Navy Captain and he married Miriam, another of the Kingcome cousins. An impressive wall plaque at the old Revelstoke church records that Miriam (b 1839) died aged 27 on the 'Sorabjee Jamsetjee Jee Jee Buoy' in India. William died three years later of a broken heart.
Having outlived both of her children, Maria died in 1892 at the age of 80.

It's in the Papers...

What went on in the lives of our P*rr*tt ancestors 100 years ago? These articles all appeared in the newspapers in 1915 ….

HERALD OF WALES (Swansea, Wales) – 31st July 1915
Fred Perrett, the old Neath and Welsh International footballer, who last season played for the Hull Northern Union team, has joined the Welsh Guards, and has left for Caterham, where the regiment is stationed.

(Editor's note: Fred Perrett transferred to the 17th Battalion of the Welsh Fusiliers in 1917. He was seriously injured and died at a casualty clearing centre on 1st December 1918. He is buried at Terlincthun British Cemetery at Wimille, France).

THE CITIZEN (Berea, Kentucky, USA) – 25th March 1915


Last week we announced "From Teacher to Banker". This week he is "Married". This is the news we receive from Professor J. W. Dinsmore. Yesterday, the 24th, he married Miss Perrett of Salem, Ohio. They go to California for their honeymoon, then return, when Professor Dinsmore will assume his new duties as bank president at Coshocton, O. His many friends in Kentucky extend to him congratulations on this latest acquisition.

HULL DAILY MAIL (Hull, England) – 9th April 1915


Major-General Sir T. Perrott K.C.B, Deputy-Assistant Adjutant-General, staff officer for Royal Artillery, is in Hull. To-day he inspected the Divisional Ammunition Column, at the East Hull Barracks, of which Major James Walker has command. Yesterday he paid a visit to the Hedon Racecourse and inspected manoeuvres by the 1st and 2nd Hull Heavy Batteries, in command of Colonel Slater and Captain Gregory respectively.

THE NEW YORK WORLD (New York, USA) – 13th January 1915
Marvin E. Parrott, an ex-convict and disbarred lawyer, with many aliases, was held yesterday in $2,500 bail for the grand jury on a charge of grand larceny. The World has been searching for Parrott since April last, when he inserted a help wanted advertisement for a collector.

Charles J. Wetterau of No. 5 West One Hundred and Second street, answered the advertisement. He testified yesterday that Parrott hired him, induced him to give up $75 as security, and then disappeared. The World has the name of several other complainants who claim to have been swindled by Parrott. It was for a similar swindle that Judge Malone, on December 19, 1910, sentenced him to not less than two and a half nor more than four and a half years in Sing Sing prison.

DUNDEE COURIER (Dundee, Scotland) – 26th February 1915
The Rev. W. L. Perrett, Shotts, has accepted a unanimous call to Crieff Congregational Church, the pastorate of which has been vacant for some time owing to the translation of the former pastor, the Rev. R. T. Sivewright, to Dundee.

THE DON DORRIGO GAZETTE AND GUY FAWKES ADVOCATE (NSW, Australia) – 18

th December 1915
Apropos of what appeared in our last issue respecting the mysterious death of pigs at Hillgrove, Mr A. Perrott, of "Chevy Chase", supplies us with some interesting particulars of his experience. Mr. Perrott says that some time since he lost a number of pigs in a mysterious manner. They died apparently from poisoning, but the cause was puzzling. The food was carefully watched, and as the deaths still continued, Mr. Perrott made an investigation of the sty. From indications in the floor of the sty he became suspicious , and had it dug up, when a nest of seven snakes was discovered. These had undoubtedly been the cause of the death of the pigs, which had probably trodden upon the reptiles while the latter were helping themselves to a share of the milk which was fed to the porkers. A little later a similar occurrence was reported from "Haroldston," Kelly's Plains, Mr. Perrott's other property. Pigs were reported dead in the sty there, and on digging the floor up another nest of snakes was discovered.

WARRNAMBOOL STANDARD (Victoria, Australia) – 17th May 1915
The winter meeting of the Kirkstall Racing Club was held on Saturday in fine, but cold weather. The attendance was poor. As the result of the recent rains the track was very soft, which accounted for the slow times. Nevertheless the racing was enjoyable. One of the features of the afternoon was the success of P. Perrott in the saddle. He had four mounts, and each one was returned the winner.

WESTERN DAILY PRESS (Bristol, England) – 27th November 1915
CLEVEDON. The death occurred on Friday morning, at his residence in Hill Road, of Mr James Perrett, who for nearly 40 years had carried on the business of a watchmaker and jeweller in this town. The deceased was taken ill on Sunday, and despite medical care pneumonia supervened and he passed away as stated. The late Mr Perrett was for several years one of the overseers of the parish. The deceased gentleman, who was 64 years of age and much respected, leaves a widow and an only son.


A P*RR*TT PHOTO GALLERY
| | |
| --- | --- |
| | William Parrott was born in Somerset in 1843, but moved to Yorkshire as a small boy. He began working in a brickyard aged eight and took up work at a local colliery aged ten. His work in the mining industry led him to become involved in the trade union movement, eventually rising through the ranks to become General Secretary of the Yorkshire Miners' Association. In 1904 he was elected as a Lib-Lab MP, but served for less than a year before his death in February 1905. William was married to Eliza (nee Thompson) and had four children. |
| This poster was another of Chris Perrett's eBay finds. The winning bidder, Pierre Perrett, knew that he had ancestors who were bakers in Gloucestershire, but wasn't sure if they included F Perrett of Cirencester or not. After he'd shared part of his family tree with us, Lynne Morris (964) was able to confirm that Francis Perrett the baker (born 1838 in Bath) was indeed a younger step-brother of Pierre's great-great grandfather William Ellen Perrett. They were the sons of John Perrett, who remarried after the death of his first wife, Jane Maria Stockman. William Ellen married Jayne Hannah Locock and Francis married Jane Lewis. Francis is listed in Kelly's Directory of Gloucestershire in 1889 as a baker and corn dealer. | |
| | Private George Henry Perrett , the son of Thomas Nicholls Perrett (a station master) and his wife Emma (nee Allen), was born on 11th April 1891. After school he worked as a railway clerk before enlisting in February 1916. George served with the Expeditionary Force in France and Flanders from June 1917 onwards with the 21st Battalion West Yorkshire Regiment (Prince of Wales' Own). He was killed in action near Arras on 31st January 1918 at the age of 26. An officer wrote: "He was a splendid fellow in every way, always most trustworthy and willing, and I had very great confidence in him. I had the honour of being his company officer practically the whole of his Army life". |