Family Notes - March 2015
This is a sample of the information provided to members of the P*rr*tt Society in the most recent edition of Family Notes. Family Notes is a 56-page printed magazine that is distributed to society members every quarter.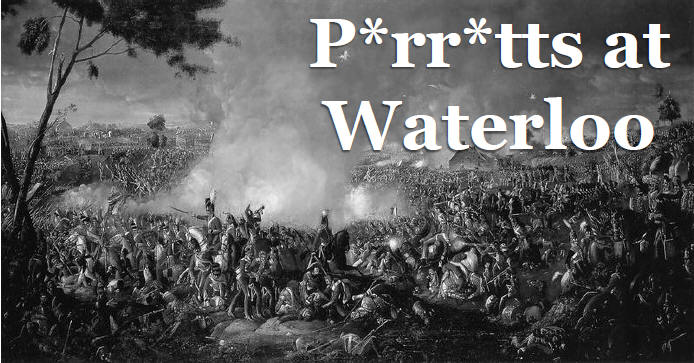 This year marks 200 years since the Battle of Waterloo, which took place on Sunday 18th June 1815. The Duke of Wellington's British troops – alongside Prussian allies – defeated Napoleon's army, resulting in the restoration of the French monarchy and Napoleon's abdication and subsequent exile. A number of P*rr*tt men served in the Napoleonic Wars and several are known to have fought at the Battle of Waterloo.
The names of these men have been taken from the Waterloo Medal Roll, which is available on both the Find My Past and Ancestry websites. Where possible, this has been cross-referenced with British Army records to provide more information. As with any records from this far back in history, the P*rr*tt surname spelling in the records may not exactly match the family name as it is written elsewhere. Thanks must go to David Milner, who has spent a great deal of time compiling information about men who fought at Waterloo and generously shared his research with us.
Do any of these men appear on your family tree? If so, can you tell us anything more about them?
John PARROTT was a private in the 73rd (Highland) Regiment of Foot, 2nd Battalion, in Captain John Pike's Company. He was born in Surrey and enlisted as a labourer on 5th April 1813, a volunteer from 2nd Royal Surrey Militia. He transferred to 1st Battalion on 4th May 1817 and joined at Trincomalee (Ceylon) on 29th September 1817. John died on 16th December 1818 and left a will in favour of Private R Hardy who received his credit balance of £1 11s 6d.
John PERRETT (Jns PURRETT on Waterloo Medal Roll, John PARRATT in discharge papers) was born in Over Stowey, Somerset in 1776 (son of William Perrett and Mary Hurdle) and worked as a farmer prior to his military service. He enlisted at North Curry in 1803 as a member of the Army Reserve and in 1806 joined the 28th (North Gloucestershire) Regiment of Foot in Captain Henry Moriarty's Company. He spent 9 days sick in the General Hospital at Brussels and was discharged to a pension on 31st July 1816 on account of a disabled arm from gangrene and dropsy. Records indicate that he was a tanner by trade, 5ft 2ins tall, with brown hair, grey eyes and a brown complexion. John's father, William, was the late Parish Clerk of Over Stowey and – on his return to the village – John was mentioned in the diaries of the Reverend William Holland (published as 'Paupers & Pig Killers'): Sunday 3rd November 1816: "The Hero of Waterloo was at Church with his medal and I spoke to him before them all as I came from Church. He is my old Clerk's son. They say he gives a good account of things" Thursday 25th December 1817: "We had our kitchen full of guests, old Servants &cc and among others the Hero of Waterloo with a Medal, my old Clerk's son"
James PERRITT was a private at the Battle of Waterloo, serving in 1st Regiment of Foot Guards (or Royal Scots), 3rd Battalion in Captain Thomas Moss's Company No. 3. James was born in West Calder, Midlothian around 1790. He enlisted in the 1st Regiment of Foot (Royal Scots) in Edinburgh in 1811 and later transferred the 23rd Regiment of Foot. Service records indicate that James Perrett served at the Battle of Waterloo in addition to other engagements, notably the Battle of Salamanca, where he sustained an injury to his right hand. He was awarded the Military General Service Medal with 4 clasps for Salamanca (22nd July 1812), Vittoria (21st June 1813), San Sebastian (9th September 1813) and Nivelle (10th November 1813). James, a labourer by trade, was 5ft 6ins tall with a sallow complexion, long face and dark brown eyes.
William PARROTT (or PARRETT) served in the 10th (or the Prince of Wales's Own Royal) Regiment of Light Dragoons (Hussars) as a private in Captain Grey's Troop No. 4. He was Court Marshalled on 13th December 1813 on "suspicion of theft and conduct unbecoming a soldier". William was sentenced to be flogged with 200 lashes and received 140. He later received the Military General Service Medal with 3 clasps for service at Vittoria (21st June 1813), Orthes (27th February 1814) and Toulouse (10th April 1814). He was wounded at Toulouse.
RICHARD PARROT was a Corporal in the 1st (or Royal) Regiment of Dragoons. He was recruited at Tewkesbury and served at the Battle of Waterloo.
John PARROTT served in the 51st (2nd Yorkshire West Riding) Regiment of Foot (Light Infantry) as a private in Captain Samuel Bearly's Company. Pay list shows he was in receipt of an enhanced rate of pay for 7+ years or service, which means he must have enlisted in 1808 or earlier. He was a labourer prior to enlistment and was born in Bandon, County Cork. John is recorded as "sick absent, General Hospital 37 days" after Waterloo, indicating that he must have been wounded. He was discharged to a pension on 25th February 1819 on reduction of the Regiment at the age of 34 years.
William PARROTT was a Private in the 40th (or 2nd Somersetshire) Regiment of Foot, 1st Battalion. The pay list shows that he was in receipt of an enhanced rate of pay for 7+ years service, indicating enlistment in 1808 or earlier. He is recorded as having been left – sick – in the Peninsula.
Richard PARRETT (or PARROTT) served as a Private in the 1st Regiment of Foot Guards (later Grenadier Guards), 3rd Battalion, in Lieutenant Colonel Reeve's Company at the Battle of Waterloo. He was born in Hornsey and enlisted as a labourer at Athlone on 4th May 1812, a volunteer from West Middlesex Militia. He was 5ft 8ins tall, with hazel eyes and a dark complexion.
Elijah PARRATT is named on the Waterloo Medal Roll serving as a private in the 44th (East Essex) Regiment of Foot in Captain David Power's Company. He died in January 1816.

It's in the Papers...
We're going back to the eighteenth century this time, with a number of articles from England and America featuring P*rr*tts. Do any of the people named feature in your family tree? Can you tell us more about them?
THE VIRGINIA GAZETTE (Williamsburg, Virginia, USA) – 8th June 1739
On Saturday the Ninth Instant, died Mrs. Margaret Comrie, Wife of Doctor William Comrie, at his House in King William County, after a long and tedious illness. She descended from a very good Family, being Niece to the late Mr. Thomas Parratt, one of the Registers in Chancery, and sister to Mr. Josias Baintone, one of the present Six Clerks of the said Office; and was a Gentlewoman of singular good Endowments.
THE PUBLIC ADVERTISER (London, England) – 27th October 1761
Yesterday Morning soon after Nine o'Clock, Robert Parrott, for the Murder of his Wife by cutting her Tongue partly out, of which she languishing lived for some Days and then died, and Hester Rowden, for the Murder of her Bastard Child, were put into a Cart at Newgate and carried to Tyburn, where they were executed about Eleven o'Clock. Parrott was near 70 Years of Age, and appeared very unconcerned at his Fate … When the Execution was over, the Body of Parrott was conveyed to Hounslow-Heath, and hanged up in Chains about a Quarter of a Mile of the Cottage where he lived.
MANCHESTER MERCURY (Manchester, England) – 19th May 1752
BANKRUPTS – June 9. William Parratt, of Leather Lane, in the County of Middlesex, Pawnbroker, Dealer and Chapman.
IPSWICH JOURNAL (Ipswich, England) – 24th January 1756
BANKRUPTS – Silvanus Perrett, of Hemell-Hempstead, Hertfordshire.
NEWCASTLE COURANT (Newcastle-upon-Tyne, England) – 12th February 1785
Married. Lately, at Hart, near Hartlepool, Mr Christopher Porritt, a considerable Farmer, near Elwick, to Miss Musgrove, of Elwick.
THE PENNSYLVANIA GAZETTE (Philadelphia, USA) – 28th March 1752
Run away, last night, from the subscriber, a convict servant fellow, nam'd Jacob Parrott, born in the West of England, and bred in the family of a gentleman in Devonshire. He is about 22 years old, of a fair complection, active and strong, but short for his bulk; he is very handy at any thing, so that he may pretend to be a groom, coachman, gardiner, barber, sawyer, shoemaker, &c. His apparel was a new felt hat, a new brown and an old grey wig, a new ash colour'd duffel great coat, with a large cape, and white metal buttens, and black button holes, with carved white metal buttons, double breasted short brown holland jacket, with wash'd yellow buttons, new leather breeches, two or three fine Irish linnen shorts, white cotton stockings, and new footed grey yarn ditto, new pumps, and large pewter buckles. He took with him a brown middle siz'd natural pacing horse, a good bridle, saddle and housing, with plenty of money, which 'tis supposed will soon be spent, he being a very idle fellow, and a lower of dancing, singing, carding, racing, cock-fighting, &c. he will cringe to those he things his superiors, but is quarrelsome and abusive to others, in whose company he will brag, chatter, fight, curse, swear, &c. has a scar on his left-thumb, occasioned by a cut with a broad ax: All persons, especially women, are cautioned to beware of him, for he is a great cheat, and a notorious villain. Whoever secures him in any prison, &c. so that he may be had again, shall be paid Forty Shillings, Pennsylvania currency, and besides that reward, any person that will bring him home, shall be paid his reasonable charges, &c. by me, his master, Hugh Jones. N.B. All masters of vessels are forbid to carry him off.
READING MERCURY – Monday 11th February 1793
MARRIED. Wm. Russell, esq. of Powick, Worcestershire, to Miss Pakington, eldest daughter of Sir Herbert Perrott Pakington, bart. of Westwood.
HEREFORD JOURNAL (Hereford, England) – Thursday 8th May 1783
On Tuesday the Dean and Chapter of Christ Church presented the Reverend Mr. Perrott, M.A. of that Society, to the Vicarage of Broughton, in the county and diocese of York, vacant by the death of the Reverend Mr. Guy.
SUSSEX ADVERTISER (Sussex, England) – 9th November 1761
Yesterday, the Report was made to his Majesty at St James's, of the two Malefactors convicted at the last Session held at the Old Bailey, viz. John Perrott (against whom a Commission of Bankruptcy issued in January 1760) for embezzling and concealing his effects from his Creditors; and Samuel Lee, for publishing a forged bill of exchange for 50d. when they were both ordered for execution: John Perrott on Wednesday next in Smithfield, and Samuel Lee the Day following at Tyburn.


A P*RR*TT PHOTO GALLERY
John Lock Parrett died from malaria while serving in the British Navy and is buried at the Needham's Point Military Cemetery in Barbados.

He is the great-uncle of David Hadley (901), who is the grandson of John's sister, Annie Herbert Parrett. David says: "According to the inscription on the headstone it would appear that his shipmates couldn't afford two graves and two headstones as they have placed two bodies in the same grave".

John was born in Liverpool in 1879, the son of William Walker Parrett and Annie Jones. He shares his grave with Alfred Walker, who died at sea on 29th October 1898. Both men were serving on HMS Proserpine at the time of their deaths. A colour photograph of their grave appears on the back page of the printed issue of Family Notes.

Reverend Walter Whatley Perrett (1869-1950) devoted over 40 years of his life to missionary work in Nain, the northernmost settlement in Newfoundland and Labrador. The settlement had been established by Moravian missionaries in the eighteenth century, as a result of which Walter became a competent German speaker. In 1936, the story of his life in Canada was published under the title 'A Shepherd in the Snow'.

Walter was the son of William and Helen Perrett from Malmesbury, Wiltshire. He married Helen Ridgway in 1895. The couple had five daughters – Alice, Ethel, Constance, Beatrice and Gladys.

Susan Parrett Ingels and her son Mark are researching their Parrett ancestry and have created a very interesting website documenting some of their research so far (www.parretthistory.com).

To date, they have only been able to identify four people in this excellent Parrett family picture – Joseph Gatch Parrett (1), Mary Jane Butters Parrett (2) (wife of Joseph), Rachel Hannah Parrott Bender (3) and Lewis Calvin Bender (4) (husband of Rachel). The family descend from Frederick Parrette who arrived in Virginia in 1737. It is believed that this picture was taken in – or near – Whiting, Kansas.

Can anyone help Susan & Mark to name the other family members in the photograph? They can be contacted via email: info@parretthistory.com (please also copy in the editor to any correspondence so that we can provide an update in a future issue of Family Notes)