THOMAS SAMUEL PARROTT, (1842- 1917), civil engineer and soldier, was born on 12 February 1842 at Bedford, England, son of John Parrott, tailor, and his wife Margaret Maria, née Buttery. Educated at Bedford School, he trained as a civil engineer and came to Australia in 1860, having been commissioned by the Duke of Portland to carry out pioneering and exploration work in western Queensland. He remained in Australia as a contract surveyor in Queensland. He became a government surveyor for the Melbourne district in 1870 and also had a private business, Parrott & Bryson, civil engineers and surveyors, there. On 4 June 1870, at Christ Church, Hawthorn, he married Alice Matilda Butcher.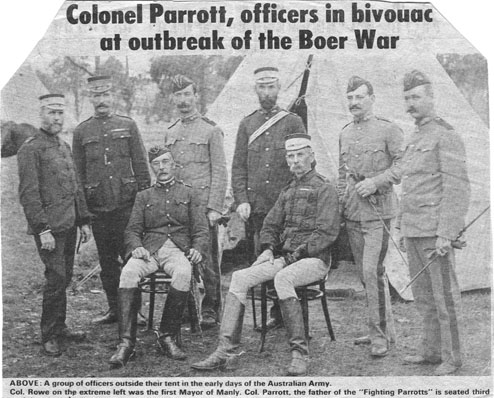 In 1872 Parrott joined the survey branch of the New South Wales Department of Lands and the New South Wales Corps of Engineers (Volunteers) and on 20 August 1874 was commissioned as a lieutenant. That year he invented a new signalling device which he called a sematrope, an instrument based on using the reflected rays of the sun and the full moon; it was later superseded by the heliograph. In 1879 he submitted a plan for a bridge across Sydney Harbour. Parrott was promoted captain in 1884 and served as engineer officer on the staff of the New South Wales contingent to the Sudan in 1885,receiving the Egypt Medal with clasp and the Khedive's Star. He was made a brevet major on 18 July 1885. He had been eager to see active service and had applied for a year's leave of absence and accreditation to join any force which might be dispatched from India to operate in the Sudan so that he could increase the value of his training to the Corps of Engineers.
In 1886, at the invitation of the New South Wales colonial secretary, Parrott visited Europe and North America to report on coast and harbour defences. He presented his report in July 1887. He was then a partner in Parrott & Cameron, mining and civil engineers, Sydney. In 1894 he commanded No.1 (Field) Company, Engineers, and was employed on military survey duties in the Illawarra district. In September he was confirmed as major and in November was awarded the Volunteer Officers' Decoration.
Parrott became a brevet lieutenant-colonel on 29 March 1899 and embarked as a special service officer on 17 January 1900 for the South African War. He arrived at Cape Town on 18 February and was attached to the Royal Engineers who employed him on engineering works in the Orange River Colony. At Bloemfontein in May 1900 he formed the so-called 'Australian Pioneers' ('Flying Sappers') by mounting his engineers so that they could keep up with the mounted infantry. He left Cape Town for Sydney in the transport Orient in December 1900 and for his service received the Queen's Medal with two clasps.
On 11 October 1900 Parrott had been promoted substantive lieutenant-colonel and appointed to command the two field companies of New South Wales Engineers. He was placed on the retired list on 1 September 1902 and migrated to South Africa where he served as a transport officer during World War I.
Parrott's children shared his military interests. Sergeant Major H. F. Parrott, a Sydney draughtsman, served in the Australian Army Service Corps on Gallipoli and in Palestine in World War I; Quartermaster Sergeant J. H. Parrott, with the New South Wales Medical Corps during the South African War and the South African infantry in German South-West Africa (Namibia) and France in World War I; Captain A. K. Parrott, a geologist, with the 1st New South Wales Mounted Infantry in the South African War and in the South African infantry in World War I; Private S. C. B. Parrott, a mine manager, likewise with the South African infantry; and Parrott's daughter Amy ('Polly'), a nurse with the South African forces, died on active service. Survived by his wife and children, Parrott died at Johannesburg, South Africa, on 22 February 1917 and was buried there.