JAMES THOMAS PARROTT (838) looks in detail at his Victorian ancestors
The Problem With Jesse
In the 'FAMILY NOTES' for Dec. 2007, the editor's opening item commented on the BBC programme "Who do you think you are?" and how that programme had concentrated more on looking at how our ancestors had lived rather than attempting to trace families back to William the Conqueror. I too, have tried to put some meat onto my ancestors and describe something of their lives. My interest started with a look at a bundle of family documents which came to me following the death of my father. On my paternal grandfather's birth certificate his father's name was James but on his marriage certificate his father was Jesse. Two questions immediately came to mind. Who was Jesse and how had he come to be known as my grandfather's father?
I think I have discovered the answer to both of those question during my research but the answers only generated more questions. Such is the lot of the family researcher!
Building the railways
Contrary to a perception that families of the 18th and 19th centuries very rarely moved far from where they were born, my family appears to have been extremely mobile travelling and living in places as far apart as Bedfordshire, Essex, Cambridgeshire, Surrey, Derbyshire and probably Cumbria.
I start my journey in 1787 with 3 X Great Grandfather William Parrott, born at Leighton Buzzard in 1787 and married Mary Jackson in 1812. Their children were Joseph (1813), William (1814), Sarah (1816), 2 X great grandfather James (1818), John (1820) and Alice (Dec 1821). It seems as though Alice died in the same month at Eggington, near Bletchley. There is a Railway Museum at Eggington and railways are a continuous thread throughout my family history.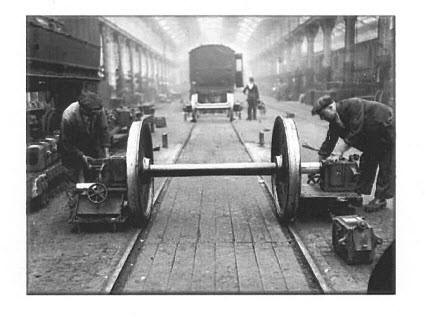 Inside Wolverton Railway workshops
2 X Great grandfather James was born in Potsgrove in the Parish of Bletchley in 1818. By 1851 James was a labourer on the railway living with his wife, Sarah, born in Romford, Essex and their children, Jesse (the mysterious Jesse) born in 1840 in Hornchurch, Essex, great grandfather James born 1842 in Baddows, Essex and Sophia born in 1847 in Bletchley, Bedfordshire.
In 1845 the Eastern Counties Railway, later to become the Great Eastern, was extended from London to Cambridge through Hertford and this may have been the railway on which 2 X great grandfather James was employed and possibly influenced the family when deciding to move to Plaistow (West Ham) later.
Railway companies were major employers at the time and the 1851 census for that area shows that a large proportion of the population worked on the railway. There were nearly 800 men employed at the Wolverton LNW Engineering Works alone in 1851 and it had become the largest single employer in North Buckinghamshire. In 1846 the London & Birmingham railway had become part of the London and North Western railway and in 1850 the Bletchley to Banbury line was completed and Bletchley became a major junction.
The railways had changed the face of North Bucks with Bletchley changing from being an agricultural backwater to a well known railway station, Wolverton from a village of 400 to a bustling new town of nearly 3000 people all in one generation.
Sometime between 1851 and 1861 the family moved south to Plaistow, possibly because the railways had also spread to the east end of London where the Eastern Counties Railway (ECR) Company had a workshop manufacturing locomotives and rolling stock and as early as 1848 employed approaching 1000 men. In 1858 the ECR linked up with the London, Tilbury and Southend Railway and opened a station at Plaistow.
The 1861 census has 2 X great grandfather James, wife Sarah, daughter Sophia and sons Jesse and great grandfather James Thomas together with a lodger, nephew William Clarke living at 7 Spring Place, in the West Ham Municipal Ward of Plaistow. (William b.1841, was probably the son of 2 X James Thomas' sister Sarah who married Richard Clarke in November 1834 at Potsgrove, Bedfordshire. The name Spring Place suggests somewhere exotic but I suspect it was no such thing. Or was it? In 1861 the housing density for England was 5.5 persons per house. In Essex it was only 5.0 but in Plaistow it was 6.6 although in 1871 it had fallen to 5.6.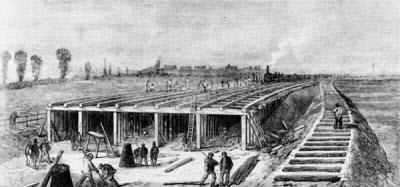 Building London's northern outfall sewer
Building London's Sewers
2 X great grandfather James Thomas, his sons and nephew William were now employed as labourers in the sewers. This change in employment may have occurred as a result of completion of the railway and the building of the Northern sewer outfall, which drained all sewage from areas of north London and emptied into the river Thames at Plaistow where the salt water from this tidal part of the river diluted the outflow and washed it out to sea. The word sewer is a corruption of the word seaward, which is where the sewage finished up!
The citizens of London and surrounding areas were fed up with the smell and the state of the water supply which came out of the same River Thames into which the sewage was dumped everyday. So, three lines of sewers, the High Level, the Middle Level, and the Low Level were built to drain London on the north side of the Thames. The first of these commences by a junction with the old Fleet sewer, at the foot of Hampstead Hill, and passes through Upper Holloway, Stoke Newington, and Hackney Wick, to Abbey Mills pumping-station, which was built as part of the scheme, near Plaistow.
The plans for this system were drawn up by Mr. (later Sir Joseph) Bazalgette and work commenced in 1859 and took nine years to complete. Contemporary reports indicate that the situation in London was no better or worse than any other major European city and deaths from disease caused by such sources was the roughly the same all over the continent.
The family grows
At some point between 1861 and 1871 some significant events seem to have taken place. Great grandfather James Thomas married Eliza Belsham on 25th May 1863 though I don't know where the wedding took place. Eliza was born in Ilford and had four children, all born in different places. Alice was born 1864 in Cambridge, Jane,1866 in Capel, Surrey, a small village south of Dorking and close to the London to South Coast railway line. Their other two children were Richard born 1868 at Burton, Derbyshire, a railway town, and my grandfather, James Thomas, born at 23 Howards Road, Plaistow on 9th February 1871.
His birth certificate shows that his father's name was James Thomas, which would be Great grandfather James Thomas who is now described as a railway contractor. The 1871 census family address as 23 Howards Road – but this was the home of Jane Belsham, Eliza's mother, not the home of James and Eliza who must have been lodgers. Significantly, Eliza is shown as a widow. Eliza was 27 years old and great grand father James Thomas would have been 29. His brother Jesse would have been 31. This could be an error on the part of the census taker. If James was working away from home, which is feasible as he was a railway contractor, then the census taker may have made an incorrect assumption. This is especially so when linked with the baptism of a James Thomas, parents James Thomas and Eliza at St Mary's church, Culgaith, Cumbria on 9 July 1871 which is not far from the Midlands to Glasgow railway line which I believe was nearing completion at that time..
The 1881 census
In the 1881 census 2 X great grandfather James Thomas and his wife Sarah were Beer House keepers in Measham on the borders of Derbyshire and Leicestershire. Living with them were grand-son Jesse born in Rugby, granddaughter Jane (offspring of Great Grand father James Thomas and Eliza), and Sarah Ann Rattledge, another grand-daughter who was probably the daughter of 2 X great grandfather James Thomas and Sarah's own daughter Sophia. But where was Jesse the elder and, just as importantly, my grandfather James Thomas?
The 1881 census has a Jesse Parrott living at Cooling, Kent and only some of the details are clear. He is the right age and is a labourer on the railway, his wife Harriet was born in Plaistow and he has a son Richard born in Plaistow in 1867. One other link is that the 1881 census also shows a James Parrott of about 10 years old as a patient in hospital in Rochester, Kent, the nearest major town to Cooling. Was this my grandfather? I will have to remain with this Jesse for the time being as I have no other leads.
Cooling
Family tradition says my grandfather never spoke about his family. Another says that he walked from London to the Wirral at the age of fourteen to seek work on the construction of the Manchester Ship Canal. Perhaps he walked from Cooling. We will never know.
Cooling is a remote and isolated hamlet on the Hoo Peninsula overlooking the Kent marshes. In 2001 it had a population 209. The most notable feature of the village is Cooling Castle, built during the 12th century. From the road the most notable feature is the drum-towered gatehouse. In 1413 the castle was owned by Sir John Oldcastle, the model for Shakespeare's character Falstaff. The more recent residential parts of the castle are still in use and as at 2005 it was owned by bandleader and pianist Jools Holland.
Of course, Jesse and his family didn't live at the castle. They resided at Lodge Hill Farm with four lodgers, all railway labourers. One of the lodgers was from Kent but the others came from West Ham (Plaistow?), Saltley near Rugby and Measham. The strongest link between all of these people is the place names. There are also the links with the railways. Derby and Rugby were, and still are, major railway towns.
In the 1891 census 2 X great grandmother Sarah was a widow living in Measham with her great granddaughter Sophia and was "in receipt of poor relief".
Grandfather married Edith Mary Worsley at Ellesmere Port, Wirral on 18th October 1894. The Worsleys were an old Ellesmere Port family and were the official gravediggers for the parish church. James and Edith had 8 children; Alice Jane (1895), Edith Mary (1896), Beatrice (1898), Violet (1899), Elsie (1901), Rosina Elizabeth (1909), James Thomas (my father) born (1911) and Richard (1914?) On my father's birth certificate his father was an engine driver.
My father married May Ravenscroft whose family had links with Frodsham, Cheshire although May was born in Ellesmere Port probably in Green Lane, just a few doors down from my father's sister Violet, which is possibly how they came to meet. They married at Ellesmere Port Parish church on 22 Dec 1934. James Thomas and May had two boys. I was born on 13 Nov 1936 (a Friday!) at Bebington, Wirral; Michael William came along later, much later, on 3 Jan 1954 at Ellesmere Port. I met and married Dorothy May Lee of Ellesmere Port on 17 May 1958 at Hooton Parish church, Little Sutton, Wirral.
Dorothy and I were already courting when Michael William was born! We have one son, Ian James, born 25 May 1968 at the Military Hospital, Colchester. This came about because in 1959 I joined the Army for my National Service and stayed in the Royal Electrical and Mechanical Engineers until 1982. To close, an oddity: there have been no girls born to my line since 1909, almost one hundred years!