The photo below is of my grandfather Thomas Edwin Perrett. He was born in Westmeath Township, Renfrew County, Ontario on February 13, 1871. His father was Henry William Perrett the son of Thomas Perrett, the latter being baseborn at West Lavington , Wiltshire, on July 6, 1806 of Mariah Perrett. Her two baseborn sons and two baseborn daughters are noted on page 190 of George Perrett's book, 'In Search of the Perretts'. Thomas Perrett enlisted with the 37th Regiment in 1826, served many years, transferred to the 71st Highland Light Infantry and was discharged in Canada in 1843, thus beginning the Canadian line of my family.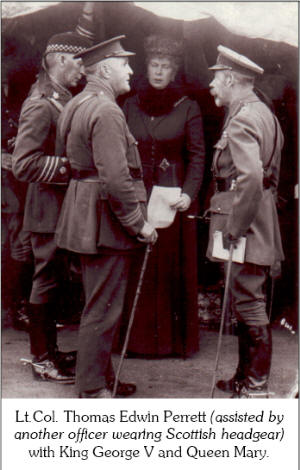 Thomas Edwin received his bachelor's degree in Toronto and took graduate studies in Chicago and at Columbia University in New York. He taught at the "Normal" school in Regina, Saskatchewan (teaching prospective teachers) for a number of years rising to Superintendent of the City schools. He was a member of the local militia until World War I, when he enlisted with the Canadian Overseas Expeditionary Force in 1915. After a variety of stops, he was eventually assigned (at the age of 46) as a Lieutenant Colonel to the 5th Battalion Canadian Railway Troops outside Ypres, arriving at headquarters on September 9, 1917. The CRT was responsible for light railway construction and responsible for light railway construction and maintenance of British rail lines.
Twenty days later, on September 29, 1917, he was injured as a result of a bomb dropped from a plane and lost the sight of both eyes.
He was eventually transferred to the Imperial Order of Daughters of the Empire Hospital in London and then St. Dunstan's Hostel for the Blind which had opened in 1915 in Regent's Park.
We believe that the photograph of King George V and Queen Mary with my grandfather, assisted by another officer who has his arm linked with my grandfather's, was taken in September 1918 in London.
He returned to Regina in November of 1918 and resumed his post as the principal of the teachers' school. In 1919, he was awarded an Order of the British Empire (OBE) which was presented to him by the Prince of Wales at a ceremony in Regina on October 4, 1919.