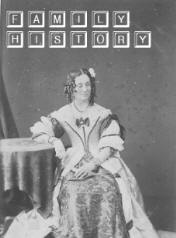 Most genealogists come across old family photographs and usually 2 problems arise: first, the subject's name is not on the photo and no-one knows who it is; and secondly, although the photographer's name and address often appear (usually on the cardboard back of the picture) this fact is of little use since the picture is undated.
Fortunately, help is at hand. There are various books dealing with the fashions worn at different periods and these will help to narrow down the likely date of the picture. Ask at your local library or bookshop, or from an online source such as Amazon.com.
The other source is via the Internet. Various people have catalogued the names and addresses of Victorian and Edwardian photographers and the dates at which they were at those addresses. I shall quote from one source which deals with photographers who worked in London. It is: http://www.photolondon.org.uk/directory.htm and is well worth a visit if you want help in this area.
The heading photograph shows a Victorian lady and her hair style suggests it was sometime in the middle of that Queen's reign (1837-1901). A printed inscription shows that the photographer was A.J.Meluish of 12 York Place, Portman Square, W. A check on the above web site indicates that he was at that address from 1864 to 1886 – but his business had other branches at different times. A word of warning however – if a photographer moved premises frequently he may well have used up stocks of card bearing a previous address.
The Web holds many other similar directories relating to photographers; for instance you can find those in Edinburgh on: http://www.edinphoto.org.uk/s/street_P.htm.  See if you can find something similar for your town!