I came across the following 3 year old letter on a genealogical enquiry site: 'I'm trying to find out more about my father's family. His name was Trevor William Parrott and he died in January 2000 in Maidstone, Kent. His mother was Marjorie Parrott and I believe she passed away in 1987 either in Liverpool or Oxford.
I'm not sure of my grandfather's Christian names but I know he passed away in Oxford in the late 1960s or early 1970s. My parents divorced when I was very young and I know so little about my father's family, so any information or help would be very much appreciated.'
Not much information there, I thought. Sitting at home I wondered how much I could find out in the course of an hour? Right – phone off the hook, office door closed – and here's the result!
The death of Trevor William Parrott in Maidstone in 2000 was quickly found using www.findmypast.com. It also gave his date of birth as 10 February 1936. Four minutes gone!

The next step was to find Trevor's mother's maiden name. Easy, I thought, since I knew precisely his date of birth and the GRO birth indexes give the mother's maiden name. No, it turned out not to be easy – he wasn't in the index of births. My first set back! Seven minutes gone.

However Trevor's marriage was quickly found, dated September 1964 in Tiverton, Devon, to a Miss Brewer. Looking for a Brewer who married a Parrott in the GRO marriage index showed she was Margaret J. Brewer. Eleven minutes gone.

A different approach was needed to find Trevor's birth. I tried www.ancestry.com under the heading of 'Public Family Trees'. The name came up immediately with the date of death as 1 January 2000 in Ditton, Kent. Best of all it gave his birth details – a big surprise – and the names of his parents. He was born, not in the UK but in India, in Kalimpong on 10 February 1936. His parents were named as William Parrott and Lilian née Burns. This immediately raised a question – who was the 'Marjorie' described earlier as Trevor's mother? Solve one problem and another comes up and wipes the smile off of your face! 20 minutes gone

At this stage data from 'FAMILY NOTES' came to the rescue. I remembered that some years ago Ruth Newman contributed a couple of articles on British baptisms and marriages in Bengal, (Births, Sep 1991 issue, Marriages, March 1992 issue), transcribed from the records held at the India Office in London. By a remarkable stroke of good luck Trevor's details were there. They were: Born 10 Feb 1936, bapt. 19 Jul 1936 in the Lahore Cantonement, son of Sydney and Marjorie Parrott. Sydney was the assistant manager of the Military Dairy Farm. Thirty seven minutes gone.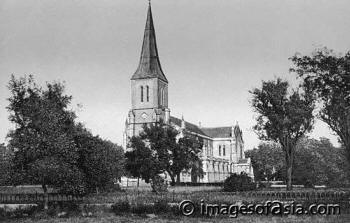 St. Andrew's Church, Lahore, formerly in India, now in Pakistan
The details of the parents marriage on 27 Oct 1930 were: Sydenham Desmond Basil Parrott, occupation 'Military', bachelor aged 28, lived Military dairy farm, Lahore Cantonement. He married Marjorie Alicia Catherine Burns, spinster, 28, living 99 Brackenbury Road, Lahore. The ceremony took place at St. Andrew's church, Lahore. The witnesses were E. Barnett, T. Barnett and under the heading 'parents' were 'Captain William Fred Parrott and Anthony Edwin Burns, RN.' Wikipedia says that St Andrews Church in Lahore was built by the British in 1899 for Christian employees of the railways in the Neo Gothic style of architecture prevalent at that time.' 45 minutes gone.

This explained who 'Marjorie' was. Whoever researched the family tree on Ancestry's 'Public Family Tree' got it wrong! Going back to Marjorie's generation nothing was found in the GRO births under the name Sydenham B.D.Parrott, nor for Marjorie A.C.Burns. 55 minutes gone.

I searched in the GRO births for grandfather William Fred Parrott until I reached the 60 minute barrier but to no avail. 60 minutes gone. However, it had been possible to find father, mother, and 2 grandfathers and to put right an incorrect, published, family tree. Not too bad for an hour's work?