Perrot Arms in the New World
by Wayne Parrott (775) & Harald Reksten (522)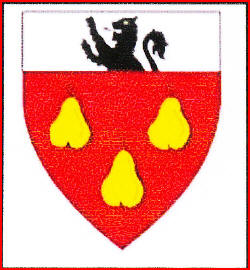 One of the better known armigerous Perrot families rose to prominence in Pembrokshire, Wales. They and their English branches used arms consisting of 3 pears, below a demi-lion rampant.
The March 2010 issue of P-rr-tt Family Notes highlighted Richard Perrot (1622 – 1686) from Middlesex Co., Virginia, who was widely reported to have used the arms of the three pears. The use of these arms therefore identified him as a descendant of that family. The reports of Richard's use of the traditional Perrot arms proved to be false, and Richard was shown to descend from a different family.
If Richard Perrot did not use the arms of the 3 pears, did anyone else in the new world do so? Another report on the Perrot arms in the Americas is in V.L. Oliver's 1915 book, Monumental Inscriptions in the Churches & Churchyards of the Island of Barbados, British West Indies, which describes the tombstone of John Perratt in Barbados.
"Here lyes ye Body of Mr. John Perratt who departed this Life June the 7th 1729 aged 74 years Here also lyes the Body of Mrs Ann Perratt wife of ye abovesaid who departed this Life March ye 16th 1728/9 Aged 63 Years or thereabouts" The seal was described as "…three pears out of a chief a demi-lion rampant; impaling, A fesse and in chief three roses".
This report is real, as evidenced by the photo, which was taken by Jenny Randall, Barbados, 2008. Though the carving has weathered considerably in the 280 years under the tropical sun that have passed since it was erected, an outline of the three pears is still easily discernable in the lower left quadrant of the carving, as is the demi-lion over them.
The crest is described as "A raven holding a flower." Based on other achievements in arms used by other Perrot family members, it is safe to assume that crest in reality consists of a parrot holding a pear. Its outline is still discernible over the helmet.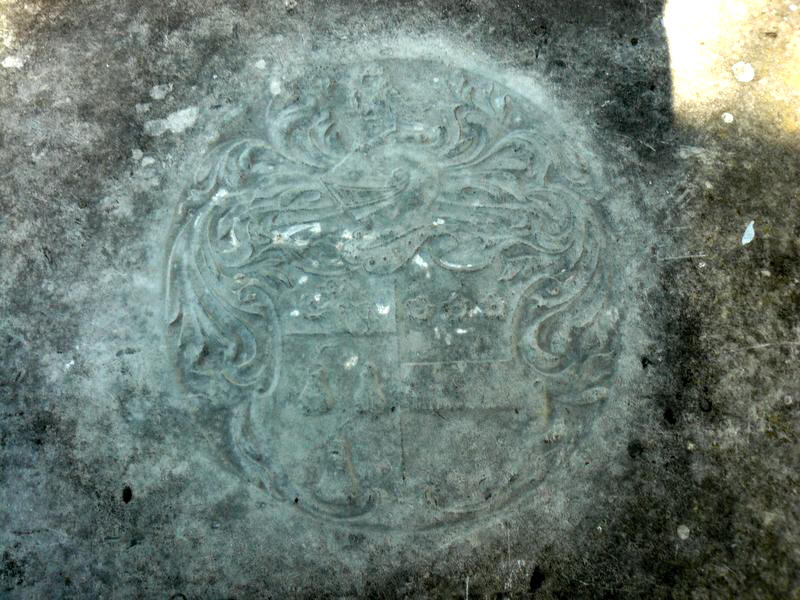 The information here is abstracted from a manuscript recently published in two parts. For a more in-depth account of research and supporting documentation on the American Parrotts of the 16th century, please see: Reksten, Harold, and Wayne Parrott 2009. A re-examination of the relationships among the Parrott families of the American colonies in the 17th century, Magazine of Virginia Genealogy, Feb 47(1) and May 47(2): 129-147