P*RR*TTs and the 'BOER WAR'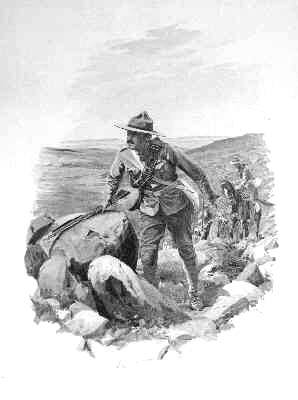 In the closing years of the 19th century the British made several unsuccessful attempts to take over the Transvaal and the Orange Free State in South Africa to which the original Dutch, German and Huguenot settlers had moved in the 'Great Trek' between about 1835 and 1842. Finally the call to war was issued on 11 October 1899. It would turn out to be one of the longest and bloodiest wars fought by Britain between 1815 and 1914.
The Second War, commonly known as the Boer War, between the British Empire and the two independent Boer republics lasted three years, 1899-1902 and involved a large number of troops from many British possessions such as Australia, New Zealand and Canada and the Boer people with a high casualty rate on both sides.
Two factors that contributed to the large number of casualties on 'our' side were that many British soldiers were physically unprepared for the environment and poorly trained for the tactical conditions they faced. As a result, British losses were high due to both disease and combat. The Boer War was finally concluded with the signing of the Treaty of Vereeniging in May 1902.
Undoubtedly some members of the P*RR*TT Society had relatives who served in South Africa during this war. The following are records of those who were wounded or died there. Most were part of the 'South African Field Force' (SAFF) It is thought that this is a complete list but it has not been possible to confirm this.
A PARROTT, Private, 12372, Royal Army Medical Corps died 1 Oct 1900 at Pretoria.
A.C.PARROT, Corporal, no.85, 1st battalion Imperial Yeomanry, injured in an accident 22 May 1901 at Bethlehem.
A.R.PARROTT, Private, 14576, 20th Battalion Imperial Yeomanry, died 26 Feb 1901 at Maitland
E. PARRITT, Private 2nd Class, 153971, Royal Naval Brigade, wounded 15 Nov 1899 at Enslin.
G. H. PERRETT, Trooper, no. 244, Colonel Plumer's Force, Rhodesian Regiment, killed 18 Nov 1899 at Tuli.
H. PERROTT, Private, 4541, 5th Dragoons, died 4 Sep 1901 at Elandsfontein.
H.A.PERROTT, 476, Bushman Battalion, New South Wales Contingent, wounded on 12 Sep 1900 at Malopo Oog.
J.PERROTT, Private, 7659, Welsh regiment, wounded 10 Mar 1900 at Driefontein.
M.E.PORRETT, Corporal, 36279, 5th Battalion Imperial Yeomanry, wounded on 5 Jul 1901 at Mezig.
S. PARROTT, Private, 3222, 2nd Battalion Royal Scots, died 13 Mar 1901 as the result of an accident.
T.PARROTT, Acting Bombardier, 24915, 64th Battery Royal Field Artillery, wounded 4 Dec 1900 at Standerton.
T.PERROTT, Corporal, 5514, 1st Battalion Royal Canadians, wounded 8 Apr 1902 at Stenekamp.
W.PERRITT, Private, 4532, 2nd Battalion The Wiltshire Regiment, died 12 May 1900 at Bloemfontein.
W.PERROTT, Private, 1314, 1st Battalion Devonshire Regiment, Natal Field Force died 8 Sep 1900 at Johannesburg.
W.PERROTT, Private 4732, 17th Lancers, killed 17 Sep 1901 at Tarkastad.
W.G.PERRETT, Driver, 26785, 'O' Battery, Royal Horse Artillery, wounded on 22 Apr 1900 at Thaba Nchu.
If any member can identify any of these casualties or, even better, has photographs of them, will you please let the editor know. Thanks!