Lest we forget – part 2
Continuing the series started in the Dec 2012 'Family Notes, we move on to the Parretts and the Parritts. The lists shows Christian names (sometimes only an initial is known), their rank, service number, age (where known) and for which country they were serving. In some cases we know their next of kin and where this is the case the names are given below. Dates after the last day of hostilities probably means died later of wounds.
If you recognise any of the dead and want to know where they are buried, please contact the editor. For an explanation of the abbreviations, see next page.
SURNAME PARRETT, World War 1
A. G., Pvt, 1675, 12 Apr 1917, age 43, East Kent Rgt, UK
Arthur, Pvt, 201632, 13 Jul 1916, Royal Berkshire Rgt, UK. Husband of E.J.Parrett, Northolme, Charles St., Hillingdon Heath, Uxbridge, Middx.
Charles Blackhurst, Pvt., 43754, 4 Oct 1917, age 31, KOYLI, UK, son of Joseph Parrett of Fulham and husband of Eliza Annie Parrett, 9 Cranbury Rd, Fulham, London.
Colin Rupert Symons, Pvt, 10027, 21 Aug 1915, age 20, Dorsetshire Rgt, UK. Son of Thomas B. M. and Zoe Parrett of Millwater House, Dalwood, Kilmington, Devon.
Cyril Vivian Gordon, Pvt., 745159, 24 May 1918, CMGC, Canada, son of Benjamin and Lilian Matilda Parrett of England.
DeLacey, Pvt, 27918, 28 Feb 1917, age 23, KOSB, UK, son of DeLacey and Bertha Parrett of Suffolk.
Frederick, Rifleman, 331530, 19 Apr 1917, Hampshire Rgt, UK.
Frederick Arthur, Acting Bombardier, 2470, 19 Dec 1915, age 23, RFA, UK, son of Mr & Mrs G Parrett of 6 Desmond Street, Woodpecker Road, New Cross, London.
George, Gunner, 348559, 16 Oct 1916, age 36, CFA, Canada, son of William Henry and Lydia Parrett of London England.
Henry, Pvt, 61088, 15 Sep 1916, age 23, Canadian Infantry, Canada, son of the late Henry and Margaret Parrett.
John, Pvt, 14927, 28 Feb 1919, age 32, RDF, UK, son of Matilda Parrett of Stratford Toney.
Percy Cyril Edward, Rifleman, 302427, 17 May 1917 age 22, London Rifle Brigade, UK, son of Mr & Mrs Percy John Parrett of 6 Upper Baker Street, Lloyd Square, Pentonville, London.
Reginald John, Engineers' Steward, 26 Feb 1918, age 21, Merchant Navy on ss His Majesty's Hospital Ship Glenart Castle, son of Kathleen Perratt, 29 Langstone Road, Milton, Portsmouth and the late William Bulton John Parrett.
Stanley William, Pvt, 633343, 1 Oct 1916, age 18, London Regiment, UK. Son of Allan William and Annie Parrett, 17, Warblington Street, Portsmouth.
Thomas Luke, Pvt, 143007, 2 May 1918, age 19, MGC(I), UK, son of Thomas and Mary Ann Parrett, 52, Kenilworth Road, Roman Road, Victoria Park, London.
W., Pvt, 76630, 1 Aug 1917, Machine Gun Corps (Motors), UK.
W.J., Cpl, PO/12161, 24 Jun 1915, RMLI
William, Pvt 11757, 9 May 1915, Royal Berkshire Rgt.
William Henry, Rifleman, C/3196, 12 Sep 1918, age 32, KRR, UK, husband of Florrie Parrett, 198 Albert Road, Peckham, London
William Herbert, Cpl, 32062, 13 Jul 1916, age 25, Royal Garrison Artillery, UK. Son of Walter Hubert Parrett, Langley Park, Langley, Maidstone, Kent.
William Walker, Pvt, 467526, 28 Apr 1917, Canadian Infantry, Canada.
SURNAME PARRETT, World War 2
Cyril Horace, Lt.Cdr, 12 Aug 1943, age 44, RN on HMS Europa, son of William Samuel Meyrick Parrett and Dora Elizabeth Parrett and husband of
Anne Evelyn Parrett of Harrow, Middx.
Donald William, LAC, 904199, 14 Dec 1941, age 26, RAFVR, 238 Sdn, UK, son of William and Alice Mary Parrett of Brixham, Devon.
Eric Stuart, Sgt, Wireless Operator, 1874893, 8 Jan 1945, age 19, RAFVR, son of Leslie Stuart and Rose Helena Parrett of Wimbish.
Frederick Arthur, Pvt., 5565748, 20 May 1944, age 38, Wiltshire Rgt, son of John and Matilda Parrett of Stratford Toney and husband of F.S.J.Parrett of Grately, Hants.
Harold, Quartermaster, Merchant Navy, on ss.Oropesa, 16 Jan 1941, age 27, son of Robert Walker and Ruth Parrett.
Reginald Bert, Gunner, 1486343, 29 Jun 1943, age 42, RA, UK. Husband of Elsie Grace Parrett of Weston Super Mare.
SURNAME PARRITT, World War 1.
Charles James, Pvt 84221, 23 Apr 1917, MGC(I), UK
F.C.H., Pvt, 34709, 7 Feb 1917, age 41, Worcestershire Rgt, husband of E.A.Parritt of 64 Dean Road, Erdington, Birmingham.
Francis Edward, Rifleman, 3/5101, 30 Dec 1918, age 29, Royal Irish Rifles, UK, son of William and Charlotte Parritt of Gravesend, Kent.
SURNAME PARRITT, World War 2
Geoffrey Charles, Sgt pilot, 1313333, 29 Jun 1943, age 22, RAFVR, 76 Sdn, UK, son of Walter and Mary Arm Parritt of Northfleet, Kent and husband of
Marjorie Myrtle Parritt of Northfleet.
Stephen Arnold, Pvt, 4864485, 25 Oct 1944, age 33, OBLI, UK, son of Thomas Arthur and Ada Parritt and husband of Annie Hilda Parritt of Ashby de la Zouch, Leicestershire.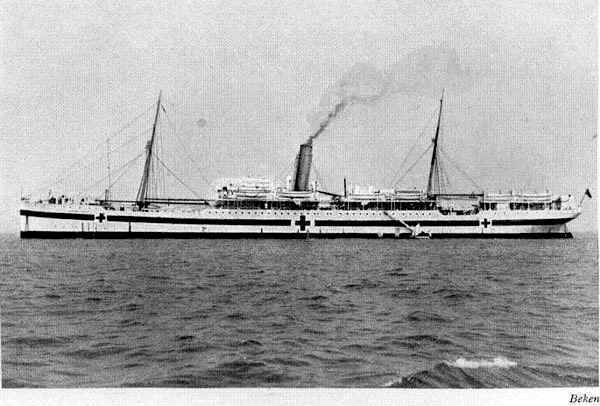 The Glenart Castle was a Hospital Ship during the First World War and was torpedoed by German U-boat UC 56 captained by Wilhelm Kiesewetter, 10 miles west of Lundy Island in the Bristol Channel in February 1918. Reginald John Parrett was one of the 162 casualties. These included the Captain, Bernard Burt, 7 medical officers, 8 nurses and 47 nursing orderlies. Kiesewetter was arrested after the war and was interned in the Tower of London but was later released on a legal technicality. The wreck of the ship is mostly intact and featured in the ITV Documentary "Deep Wreck Mysteries" on UK television.