The P*rr*tt Society is a registered one-name genealogical society for those interested in the study of the family origins of the names Perrott, Perrett, Parrett, Parrot, etc.
Members of the Society receive the quarterly Family Notes journal and have access to the Society's considerable research data. These pages are updated regularly with Society news as well as information likely to be of interest to researchers on the world-wide web. New members are always welcome and membership details are given on these pages.

Introduction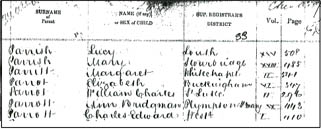 The P*rr*tt Society, covering all spellings of the name, was officially inaugurated in April 1984. The formation of the Society was a direct result of the publication by George Perrett in 1983, of his book In Search of Perretts. Mr Peter Perrett of Crowborogh, East Sussex was instrumental in establishing the Society and was the Secretary for many years.
The aims of the Society are as follows:
| | |
| --- | --- |
| | To maintain an association of those interested in the origins, history and development of the various branches of the family, the various spellings of whose names are shown on the letterhead of the Society. |
| | To circulate a quarterly journal to inform members about matters of topical interest relating to the family, and to publish genealogical and biographical information. |
| | To encourage the study of the history of the various spellings of the name shown on the the letterhead of the Society and to encourage the publication of definitive research where this is appropriate. |

This is a sample of the information provided to members of the P*rr*tt Society in the most recent edition of Family Notes. Family Notes is a quarterly magazine that is distributed to society members in both printed and electronic format. All previous editions of the journal since 1984 are available online to society members.
Joseph Robinson PARROTT, the Havana Special, and the eighth wonder of the world
By Wayne Parrott
The Florida Keys are a chain of islands that start at the tip of the Florida peninsula and arc southwest into the Gulf of Mexico for 156 miles/250 Km. The last island is Key West, and it can be reached from the mainland via the Overseas Highway. But before there was a highway connecting the keys, there was the Overseas Railroad, also known as the Key West Extension of the East Coast Railroad. By any name, it was an engineering feat that took seven years to build, mostly over open water, and that became known as the eighth wonder of the world in its day. It opened on 22 January 1912 at a cost of over $14 million.
The East Coast Railroad made Florida accessible to mainstream Americans. At the end of the 19th century, Florida was still an out of the way peninsula largely unreachable from the rest of the United states. Then came Henry FLAGER, who recognized Florida's tourist and economic potential. There he built the largest hotel chain in North America at the time, including legendary hotels such as the Ponce , the Ormond , the Breakers , and the Royal Poinciana. To ensure guests could reach his hotels, he funded the construction of the Florida East Coast Railway and later its Key West Extension.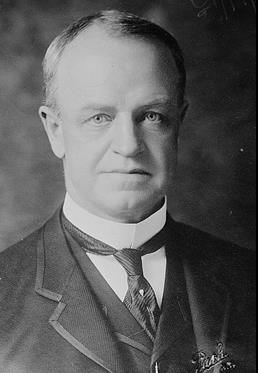 FLAGER had the funds to spend. He, along with John D. ROCKEFELLER, had founded the Standard Oil Company, a company so large that the government sought to disband it via the Sherman Antitrust Act. Today, its disbanded components still remain as BP, Exxon Mobil, Marathon, and Chevron.
FLAGER also had a capable lieutenant to manage his investments in Joseph R. PARROTT. A 1913 editorial by Chas. E. Jones in the Miami Metropolis newspaper explained that "Flagler had the millions, and Parrott the brains." "For years, it was his [Parrott's] master mind that directed the affairs of the East Coast Railroad it was his master mind that directed the affairs of the world famed east coast hotels it was his master mind that operated newspaper plants devoted to the special interest, and his master mind that controlled the peculiar politics of a peculiar faction in this state."
Joseph Robinson PARROTT (30 Oct 1859 - 13 Oct 1913) was born in the state of Maine, the first of 10 children. His father was an overseer in a cloth mill, and his mother was the mill owner's daughter. Joseph 's family #033 in the Catalog of American Parrott Families (https://tinyurl.com/JRParrott ) can be traced to the late 1700's in the state of Massachusetts, but the family origins before then remain unknown. The family remains very small, despite the number of years it has been in the United States. This family might be related to other PARROTT families in Massachusetts, but no supporting documentation has been found, so a Y-DNA test is needed to determine if there is any relationship.
The remainder of this article can be found in the December issue of Family Notes.

P*RR*TT Removal Orders
Under legislation of the Old Poor Law, specifically The Act of Settlement and Removal 1662, families and individuals in need of poor relief were required to provide evidence that they had a right of settlement in the parish. People who were found not to have a legitimate right to reside in a particular parish could be removed from the parish and returned to their last place of legal settlement.
The right to settlement was determined by a number of factors. A newborn child would have their father's place of settlement, even if they were born elsewhere. Apprentices were deemed to be settled in parish after living there for at least 40 days, as were unmarried me who worked for at least a year in the parish. Women took the settlement of their husband. There were also additional rules relating to property which might provide qualification for legal settlement.
Settlement examinations and removal orders can provide useful genealogical information, including names of parents, family groups, previous places of residence, occupational details and more. An increasing amount of detail can be found in archive catalogues online or, in some cases, in original documents on subscription genealogy websites, however not all records are available online. The examples which follow are for P*RR*TT families in Somerset, Wiltshire and Dorset. It is well worth investigating whether archives covering your ancestors' local area hold any similar documents pertaining to them, and, indeed, the archives of neighbouring areas, as our wandering ancestors were not constrained by county boundaries!
Somerset removal order (Q/SR/332/4/5) 19 June 1764
Order that Gregory Perrett, his wife Sarah, and their daughters Mary and Jane be removed from Otterhampton to Spaxton, this being their last place of legal settlement. JPs: Andrew Crosse, Philip Baker.
The marriage of Gregory PERRETT and Sarah CRIDDLE , both of the parish of Spaxton, is recorded on 5 November 1755 in Fiddington parish register. He is likely a member of the Over Stowey PERRETT family, who favoured the use of Gregory as a forename, perhaps the Gregory PERRETT who was baptised there on 27 December 1731. A Gregory PERRETT was buried at Fiddington on 30 January 1782 and it is probable that this is the same person.
Somerset removal order (Q/SR/342/2/48)
10 December 1774 Order that Daniel Perrott, his wife Martha, and their children Thomas, 19, Abraham, 17, Richard, 15, Martha, 8, George, 6, and Daniel, 2, be removed from Pawlett to Westonzoyland. JPs: Charles Kemys Tynte, John Coles.
This seems likely to refer to Daniel PERRATT , who was baptised c. 1729 in Middlezoy, Somerset. I have not found a marriage record for Daniel and Martha , or baptisms for their two oldest sons, however their children Richard , Martha , George and Daniel were all baptised in Pawlett, along with an earlier child named Martha , who presumably died in infancy. The family seem to have moved to Long Ashton after leaving Pawlett, with burials there for Daniel on 5 November 1775 and Martha on 19 November 1775. Daniel , their son, was buried there on 14 February 1776.
Wiltshire removal order (533/52/4/A) 13 March 1802
Charles and Ann PERRETT together with their children Sarah (5) and Charles (2) were to be removed from Brighton to North Bradley, Wiltshire, however a note in the index entry for Charles senior says "removal order suspended".
Wiltshire removal order (533/52/2/B) 23 May 1765
Joseph and Maria PERROT to be removed from Bradford, Wiltshire to North Bradley, Wiltshire.
Wiltshire removal order (207/34) 1 November 1831
John & Thersa PERRETT and their twin daughters Ann and Emma (17 months) to be removed from Edington to Great Cheverell. The 1841 census shows this couple living in Edington, where John worked as a carpenter, with six children.
Many more are listed in the December issue of Family Notes.

It's In the Papers
We've scoured the pages of newspapers recently added to the British Newspaper Archive website to bring you some P*rr*tt related articles.
Eastbourne Chronicle (Eastbourne) - 1 September 1883
INTERESTING PRESENTATION. On Monday evening a meeting was held at Langney road Day Schools for the purpose of bidding farewell to Mrs. Jennie Perrett, who is leaving Eastbourne to reside at Sutton in Surrey, where her husband, the Rev. J. Perrett, has just been stationed as Wesleyan Minister. Mrs. Perrett, whose works of fiction and religious essays are well known, has won many friends in Eastbourne by her interest in all temperance and philanthropic movements. Most of the members of the Band of Hope were present, and in the name of the society, Mr. Birchfield handed to Mrs. Perrett a beautifully engraved silver medal in token of her services as player of the harmonium since her residence in Eastbourne. On Sunday evening at the Wesleyan Chapel, Pevensey road, the Rev. J. Perrett preached his farewell sermon to a numerous congregation. He leaves Eastbourne for his new appointment carrying with him the good wishes of a great number of the people of Eastbourne, and especially of the members of his own congregation, amongst whom he was much loved and respected. The children of the lady named were also presented with medals by Mr. Birchfield in the name of the Wesleyan Band of Hope, as a token of kind regard.
Daily News (London) - 20 November 1940
POOR WOMAN DID NOT KNOW SHE HAD £20,000 IN AN OLD TIN BOX. "A most romantic story" in the words of the judge of treasure in a tin box was told in the Chancery Division yesterday. Securities of the value of £20,000, it was stated, were found in a tin box in the home of a woman who was living in poverty and was about to be taken to a poor house. Before the Court was a summons taken out by Westminster Bank Limited, the administrators of Nathan William Perrott, Caroline Perrott and Caroline Elizabeth Barker. The respondents were Mrs. Caroline Kate Newman, of Theberton Street, Islington, who claimed to be a granddaughter of Nathan William Perrott and to be interested in his estate under his intestacy, and Mrs. Elizabeth Harris, of Oakridge Road, Bromley, Kent, who claimed to be a niece. Mr. Wilfrid Hunt, for the bank, said that Nathan William Perrott died in 1912, and letters of administration were granted to the bank in January, 1939. The question raised was whether the Court could presume the marriage of Nathan William Perrott with Caroline Perrott. Nathan, who was a woodturner, and Caroline Perrott had lived with the daughter Elizabeth in a very frugal, small way. After the deaths of Nathan and Caroline Perrott, Elizabeth earned her living sometimes by selling flowers in the street and sometimes by cleaning. When she became too old to work it was suggested, in 1938, that she should go into a "poor house." Miss Perrott then spoke of a locked tin box which her father had left and which had never been opened. The box was broken open, Mr. Hunt explained, and in it were found securities which, with accumulated interest, were now worth about £20,000. Mr. Justice Morton decided that the marriage could be presumed and that the bank could deal with the estate accordingly.
Many more stories are listed in the December issue of Family Notes.